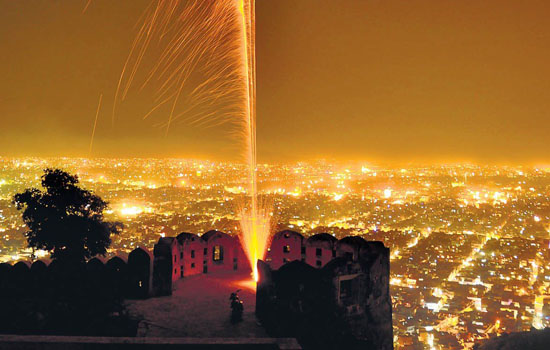 Udaipur: Immersed in the festivities, the city of lakes is celebrating the biggest festival of the year with a great deal of enthusiasm. From sweets to crackers to newly painted houses, the citizens are enjoying every bit of it. The ambiance is cold but the energy that people have this week is tremendously warm. And this warmth is phenomenal in all ways.
While the citizens are all wrapped in the colors and glitters of the modern times of the festival, they are equally sensitive and responsible.
Houses are being adorned with electric lights but at the same time diyas are being used for the evenings. If chocolates are being bought to serve the guests, sweets are also being prepared at home to carry the light of tradition forward.
Udaipur is one of the few cities in country where modernization only gets added but never replaces the rich tradition. And this is why when you celebrate a festival in Udaipur, you never miss the culture.
You might argue that this is just because of the influence of elders and might end soon but when you realize that even the youngsters are equally interested in doing things the original way, you know that the culture is in good hands.
It's not about being old-fashioned or modern, but it's all about doing the right thing. For example, in Udaipur firecrackers in Diwali are more meant to kill the pernicious insects that were born in the past monsoon.
This sets up the environment for a healthy winters. But caring about the environment, people keep a balance between environment pollution and need to kill the insects.
It's not just about praising a city or its people, its all about spreading the right attitude.
All you need to do is the right thing. And when it's just the right thing, it does not need to be labelled as modern or orthodox.
The city and its dwellers know what is required to enjoy the festival and keep the environment pollution free.
So, enjoy the festival and keep the sensibility on top of fun. A sensible Diwali is all we need to keep the sense alive and maintain our reputation across the world intact. We are one of the best hosts to not just the people, but also to the festivals and celebrations.
यह खबर निम्न श्रेणियों पर भी है:
Udaipur News