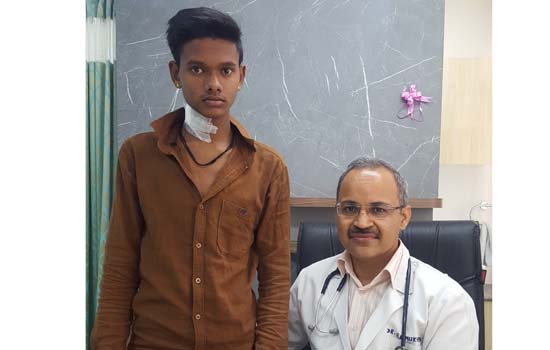 Udaipur: Geetanjali Medical College & Hospital's Nephrologist Dr. Gulshan Kumar Mukhiya have successfully performed the dialysis of a 17 years old boy hailing from local district. The patient so treated had accidentally swallowed one naphthalene ball which had resulted in Heme Pigment Nephropathy due to the deficiency of G6PD. This has been claimed as a first successful case in Medical History.
"G6PD is required for normal functioning of red blood cells. Its deficiency perceives no symptoms but if exposed to medicines causing oxidative stress may lead to bursting of RBC and the filter of hemoglobin so quick & fast ultimately ending in kidney failure. In this case also, as the patient was having this congenital deformity so as soon as the consumption of one naphthalene ball, his both kidneys stopped working and only 3.6 grams hemoglobin was left in his body. He was rushed to Geetanjali Hospital in emergency where blood investigations confirmed the deficiency of G6PD. Due to this deficiency the patient suffered from a reaction named Hemolaysis, wherein the red blood cells got burst and settle in kidneys resulting in kidney failure. This makes the hemoglobin filter so fast that it gets all collected in the kidney. He was kept on dialysis for three times with blood transfusion together to make him survive. The patient recovered well and will suffer from any problem in near future", said Dr. Mukhiya, the treating Nephrologist.
Udaipur resident, Laxman Lal Meena (Age 17 years) had accidentally swallowed one naphthalene ball at home. Since then he was suffering from vomit and stomach ache. He was admitted in some private hospital but it was all in vain. He was rushed to Geetanjali Hospital in complete emergency and critical conditions where on treatment on dialysis he recovered well and was discharged from hospital.
Dr. Mukhiya also said that, "On consumption of more than 5 to 6 naphthalene balls together can cause damage to kidneys but deficiency of G6PD & exposure to such things may cause oxidative injury. This patient has marked itself as a milestone in medical history by being the first."
यह खबर निम्न श्रेणियों पर भी है:
Udaipur News