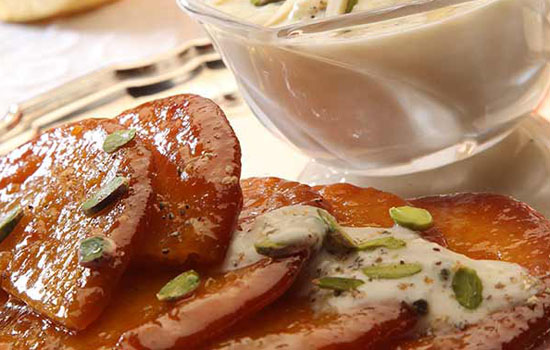 Ingredients -
50g-Maida (for malpua)
1 cup (150 ml)-Water (For Malpua)
1 pinch-Baking Powder (For Malpua)
1/2 tsp-Elaichi (Cardamom) Powder (For Rabri)
2 tbsp-chopped Mixed Dried Fruits (For Rabri)
50 gm-Paneer (For Malpua)
for shallow frying-Oil (For Malpua)
1-1/2 cups-Sugar (For Sugar Syrup)
2 cups (300 ml)-Water (For Sugar Syrup)
1/4 tin (100g)-NESTLÉ MILKMAID (for Rabri)
1/2 tin (200g)-NESTLÉ MILKMAID Sweetened
Condensed Milk (for Malpua)
100g-Paneer (for Rabri)
1 cup (150 ml)-Milk (for Rabri)
1 tbsp-Maida (Flour) (For Rabri)
100g-Sooji (For malpua)
How to make -
Crumble paneer coarsely. Make a paste of maida with 3 to 4 tbsp. milk. Combine NESTLÉ MILKMAID and the rest of milk and bring to a boil.Add maida paste to milk stirring continuously. Reduce flame and cook for 5 minutes.Add chopped nuts, paneer and elaichi powder. Remove from fire. Cool and refrigerate.
Sugar Syrup -
Put sugar and water in a pan and bring to a boil. Keep aside.Malpua. Combine NESTLÉ MILKMAID Sweetened Condensed Milk, sooji, maida, water and baking powder. Mix well and leave for 10-15 mins. Crumble paneer very finely – till smooth and add to the above mixture. Beat well.
Heat oil in a flat frying pan (for shallow frying – only 1 to 2 mm layer of oil). Pour 1 small ladle of batter to make a small, flat malpua about 2-1/2"- 3" in diameter. Fry till both sides get evenly browned.
Remove and soak in syrup for ½ minute. Remove from syrup. Arrange on a shallow plate. Top with rabri and nuts and serve hot.
---
© CopyRight Pressnote.in | A Avid Web Solutions Venture.