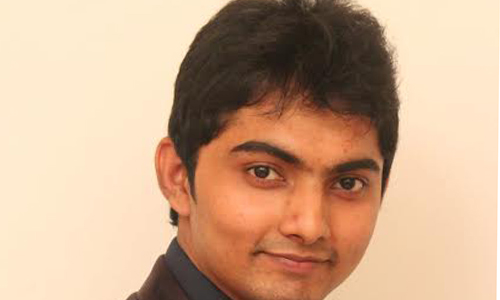 In India, every parent wants their child to be an engineer or doctor, but if you say you want to be an entrepreneur at the tender age of 20, you are sure to get a whop, a spank, and plenty of other unappetizing reactions.
Nitesh Salvi, Co-founder and Director Plancess EduSolutions Pvt Ltd. breaking all the stereotypes and old school mindsets proved that entrepreneurship has nothing to do with maturity. In the age where other chaps of his age were busy holidaying, hanging out or attending placement sessions, a little something came to this bright lad. He went ahead and laid the foundation of Plancess EduSolutions – India's first and largest education content delivery company, and in just four years he became the inspiring figure for all aspiring entrepreneurs.
Read on to know the success story of this young and dynamic entrepreneur – his family and educational background, struggles, triumphs, vision and mission etc.
Hailing from Katarwas (Kherwada), Nitesh Salvi was raised in Udaipur, Rajasthan. Born in a family of engineers, Nitesh's father N.L. Salvi is Superintendent Engineer in Ajmer Vidhyut Vitran Nigam Limited (AVVNL) and mother Mani Salvi a homemaker.
A proud owner of country's leading education content delivery company, Nitesh completed his schooling in vernacular medium from Vidyaniketan.
Right from the start of his academics, Nitesh was a bright student and was always in the list of toppers in his school, but he always dreamt of being a cricketer. But his father (being an engineer) wanted him to follow his dream of joining the country's elite Indian Institute of Technology, Bombay (IIT-B); and who knew an average looking boy from a mediocre family could redefine the way lakhs of candidates prepare for India's toughest engineering entrance exam – IIT JEE. But, he did it!
It is rightly said by Rashmi Bansal in her book TAKE ME HOME – "The ability to start and run a professional business is no longer limited by location. What you need is a vision and a mission and a burning desire. To 'make it happen,' wherever you go."
Nitesh began preparing for JEE from Class 8th and feels every student aiming that most coveted seat in the IITs should start at the same time.
Triggered by the unavailability of proper formula for JEE preparation, Nitesh along with his two college friends Vivek Gupta and Mirik Gogri led the foundation of Formula Bank in 2010 from Hostel 4, IIT Bombay Canteen. While working on this model, Nitesh also thought of creating a comprehensive platform that will act as one stop solution for all JEE queries. His thought came to be known as Plancess EduSolutions Pvt Ltd. The idea was a huge hit, and that's concluded by the fact that without making a product, just based on an idea, Salvi and his friends raised an initial funding of 1 crore.
Apart from the three key people, brand Plancess is nourished by Top 100 JEE Rankers who have put in their knowledge and expertise to create comprehensive JEE preparation material. Commenced with the DVD model, the company has gradually entered into the digital arena, offering students JEE Study Material, Video Lectures and Test Series all pre-loaded in Samsung Tablets.
The company today is valued at 50 crores and has been successful in getting decent round of funding from industry stalwarts.
Nitesh Salvi, an entrepreneur by choice aspires to create a billion dollar (6500 crore) business and is bullish about it. In the long run, he sees Plancess to be a comprehensive educational conglomerate catering to a major chunk of student fraternity.
Nitesh strongly believes that to be a good entrepreneur it is mandatory to be a good human being, apart from the business vision he has a dream of having his own non-profit social firm that would cater to the growth of rural India. He believes that, the real Indian talent is still unexplored and needs significant effort to explore the real talent of India. With this initiative he also aspires to guide deserving students to find an appropriate path in life or helping them in creating their path, as he did.
As the Co-founder and Director of Plancess, Nitesh is behind the wheels of the company guiding every team under the roof to success.
---
© CopyRight Pressnote.in | A Avid Web Solutions Venture.