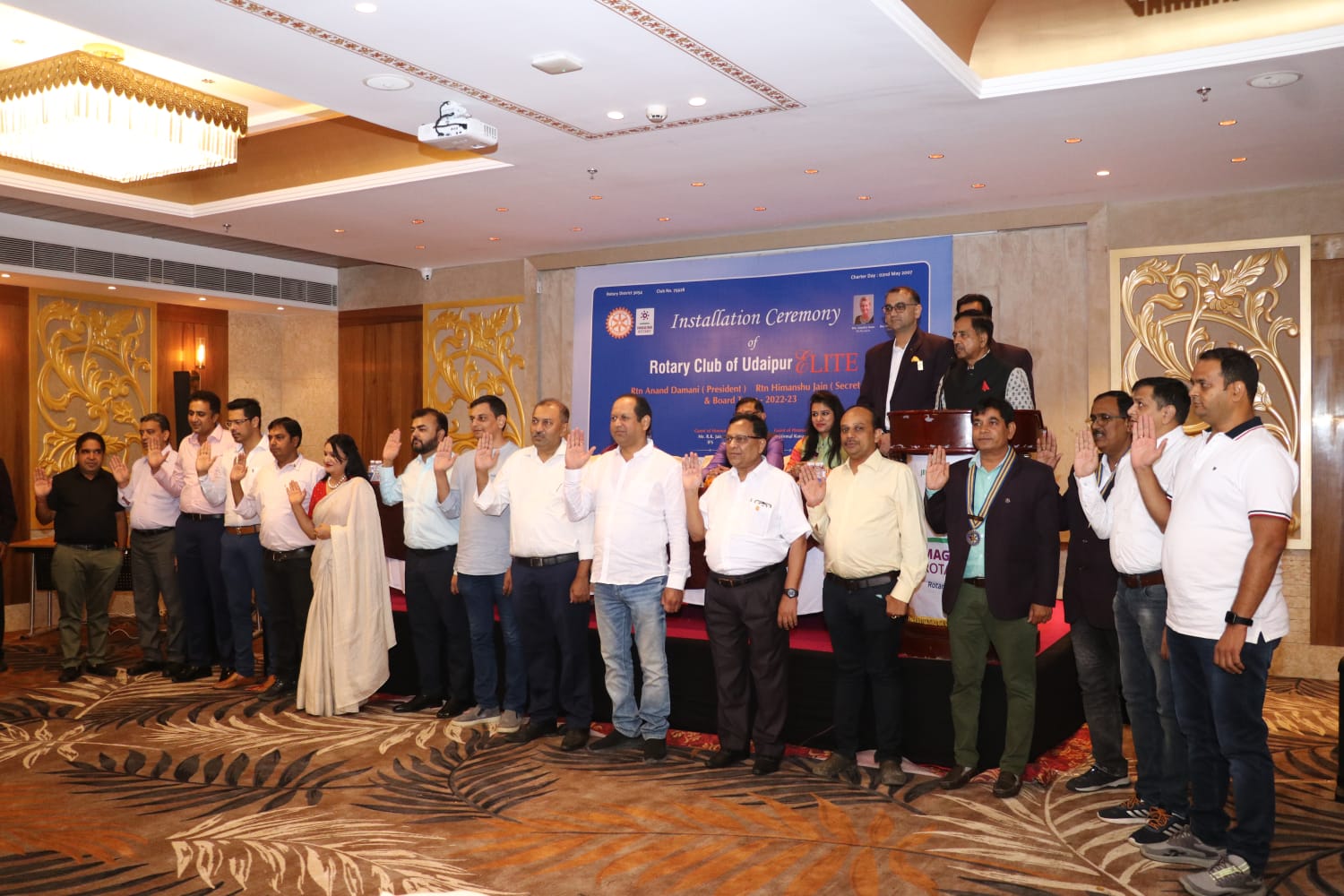 Udaipur. Chief Conservator of Forests RK Jain has said that the work being done by Rotary Clubs for the deprived and needy sections of society is commendable. Through its service projects, Rotary has set a good benchmark.
He was speaking as the chief guest at the Rotary Club Elite Udaipur posting ceremony for 2022-23, held in the auditorium of Hotel Howard Johnson.
He said that during his tenure of many years, his department has been getting full support from Rotary Clubs in the works of environment protection and tree plantation, etc.
Rotarian Nirmal Singhvi, the former Governor of Rotary, the posting officer of the program, said that since its inception, in the last 15 years, Rotary Elite has worked tirelessly in the service of society. He appreciated the hand wash and drinking water facilities and toilet construction works done by the club in 26 schools under Rotary Grant Project. He also informed me about the aid work being done by Rotary International in Ukraine and worldwide.
In his remarks, Rotarian Nirmal Kunawat, elected Rotary Governor, advised the club officials to work fast and do innovative work to get the maximum benefit of social service. Co-Provincial Dr. Harsha Kumawat congratulated the newly established board and assured them that they would work shoulder to shoulder with the club in social and other activities of the club throughout the year.
The newly-elected president of the club, Rotarian. Anand Damani, giving information about his goals for the coming year, said his emphasis would be mainly on health camps, environmental work and promoting social harmony this year. He said the club would also focus on installing solar energy equipment in rural areas. Initially, outgoing President Rotarian Prashant Sharma welcomed everyone.
Club Secretary Rotarian Himanshu Jain said that on this occasion, members of all Rotary Clubs and Presidents and Secretaries of all other Rotary Clubs of Udaipur participated. During the ceremony, two new members also joined the club.

साभार :
---
© CopyRight Pressnote.in | A Avid Web Solutions Venture.