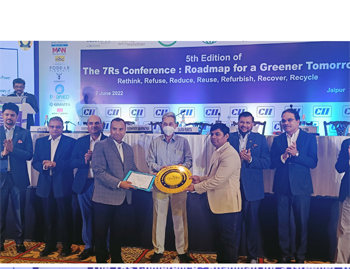 Mr Arun Misra, CEO of Hindustan Zinc, invited as the speaker at the 5th Edition of the CII Conference about environmental awareness and urging businesses to adopt sustainability
Hindustan Zinc's Dariba Smelter Complex and Zinc Smelter Debari received the GreenCo Gold and GreenCo Silver ratings respectively
Udaipur, 6th June 2022: Hindustan Zinc, India's only and the world's second-largest integrated zinc-lead-silver producer, has bagged the GreenCo Gold and GreenCo Silver ratings. Dariba Smelting Complex has received Gold while Zinc Smelter Debari has received Silver. The award was given by Shri. Sudhansh Pant, Chairperson of the Rajasthan State Pollution Control Board (RSPCB), at the 5th Edition of the CII Conference in Jaipur. Mr Arun Misra, CEO Hindustan Zinc, was invited as a speaker at CII Conference to give his insightful views on environmental awareness.
Speaking at the conference, MrMisra said, "Urgency during COVID-19 pandemic have made businesses aware about their responsibility in developing sustainably. At Hindustan Zinc, every investment proposal is first scanned for environmental compliances and sustainability index before being scrutinised for profits and other business aspects. As a front runner in Rajasthan, Hindustan Zinc has signed up 200 MW of renewable energy and the goal is to eliminate coal consumption for energy generation by 2050. Rajasthan has the potential to be the energy house of the future for India. The state government must seize this opportunity to promote renewable energy generation and offer energy storage solutions in form of zinc batteries, by increasing the zinc mining capacity globally. Sustainability is no longer an option; environmental awareness is what separates businesses."
The GreenCo Rating is a holistic framework that evaluates businesses on the environmental friendliness of their activities using a life cycle approach. Implementation of the GreenCo rating system gives companies leadership and direction on how to make their products, services, and processes more ecologically sustainable.
The program's objective is to provide a platform for government and industry to discuss, how to build a future-ready green ecosystem by implementing the 7R tools and embracing cutting-edge technologies, as well as promoting GreenCo Ratings and other best practices to attain net-zero emissions. The purpose of the GreenCo rating system is to assess the performance of the industry on parameters like energy efficiency, water conservation, waste management, green supply chain, to assess "how green the company is" with opportunities for further improvement. The Rajasthan State Pollution Control Board (RSPCB) has launched an incentive programme for industries in Rajasthan, which includes a 5 to 50% reduction in consent fees, company mention on RSPCB websites, annual recognition for the best three units, and a one-year extension of consent advantages.
About Hindustan Zinc Limited:
Hindustan Zinc, a Vedanta Group Company, is one of the world's largest and India's only integrated producer of Zinc-Lead and Silver. The Company has its headquarters at Udaipur in the State of Rajasthan where it has its Zinc-Lead mines and smelting complexes. Hindustan Zinc is self-sufficient in power with captive thermal power plants and has ventured into green energy by setting upwind power plants. The Company is ranked 1st in Asia-Pacific and globally 5th in Dow Jones Sustainability Index in 2021 amongst Mining & Metal companies. Hindustan Zinc is a certified Water Positive Company, a member of the FTSE4Good Index & S&P Global Sustainability Yearbook 2022 and a Bronze Medal winner at the S&P Global Sustainability Awards.
Being a people-first company, Hindustan Zinc believes in inculcating the values of Trust and Excellence to have a culture of high-performance in its workforce. The company takes pride in having some of the best-in-class people practices and employee-centric initiatives, which have certified Hindustan Zinc as – 'Great Place to Work 2021', 'Company with Great Managers 2020' by People Business and the PeopleFirst HR Excellence Award.
As a socially responsible corporate, Hindustan Zinc has been relentlessly working to improve the lives of rural and tribal people residing near its business locations. The company is amongst the Top 15 CSR Spenders in India and are currently reaching out to 700,000 people in 184 villages of Rajasthan, 5 in Uttarakhand and 16 villages in Gujarat. As a market leader, Hindustan Zinc governs about 78% of the growing Zinc market in India.
साभार :
---
© CopyRight Pressnote.in | A Avid Web Solutions Venture.