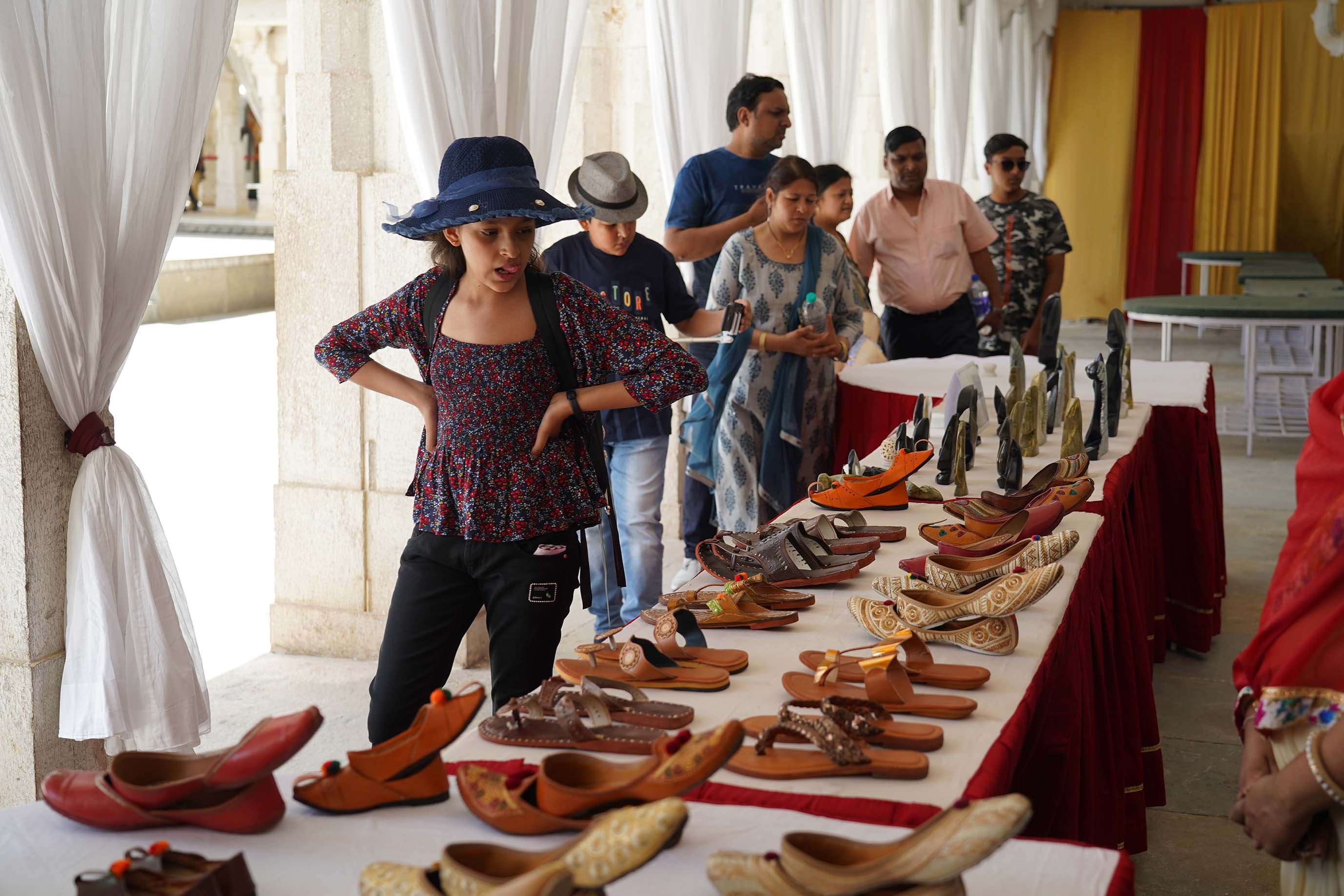 on the occasion of 470th Foundation Day (Akshaya Tritiya) of Udaipur, a creation 'Art and Craft Bazaar' was organized in the Janana Mahal of City Palace. Various traditional useful and decorative artistic materials made by the handicraftsmen of Rajasthan were displayed for the tourists, and the foundation of the Oriya Museum Souvenir Shop was inaugurated. In which valuable and decorative items like a magic mug, mobile holder, water bottle, night lamp, water can, etc., have been kept. Beautiful pictures of Gangaur, Boat, Chhatar Patta, Peacock, etc., have been printed.
The exhibition's main objective was to present the art of handicrafts in front of the country's tourists and abroad on the foundation day of Udaipur and make them aware of the local art and artists. Bhupendra Singh Auwa, Chief Administrative Officer of Maharana Mewar Charitable Foundation Udaipur, said Maharana Udai Singh II made Udaipur the new capital on Akshaya Tritiya Vikram Samvat 1609 (1553). Maharana settled Jadiya, Kansara, Sikligar, Potter, Cobbler, Suthar, Bunkar, Wari, Ganchi, Tamboli, Chitrakar, and Rangrej-Chhipa, etc., to establish a new city. These hand artists have played an essential role in the development of Udaipur. Presently the handicraft material produced by these communities is a symbol of the living heritage of Mewar.
From the exhibition, Ganeshji, Shivling, elephant, etc., were displayed in the decorative and artistic sculptures of modern art from various native stones made by Rajesh Moglia, a local handicraft of Udaipur.
Local artist, Sanjay Kumawat of Kheradiwada, decorated wooden toy stalls with wooden latch, damroo, children's carts, jhunjhuna, wooden key chains, and attractive toys for the children.
Similarly, decorative and wedding skewers, sticks, etc., were kept at the stall of local artist Mahendra Sikligar. Whose hilt was adorned with beautiful artifacts of silver and metal? Along with this, famous bandhej, dupatta, lehariya, Rajasthani lehenga chunni, pashmina lehenga chunni, etc., were displayed at Gulab Singh Gaur's stall of local dyeing and printing. Dholamaru, elephant-horse, and Shrinathji's pichwai and cows were shown in various miniature paintings made by Udaipur's small artist Karan Singh.
Tourists visiting Udaipur showed great interest in handmade items and praised the local art and artists.

साभार :
---
© CopyRight Pressnote.in | A Avid Web Solutions Venture.