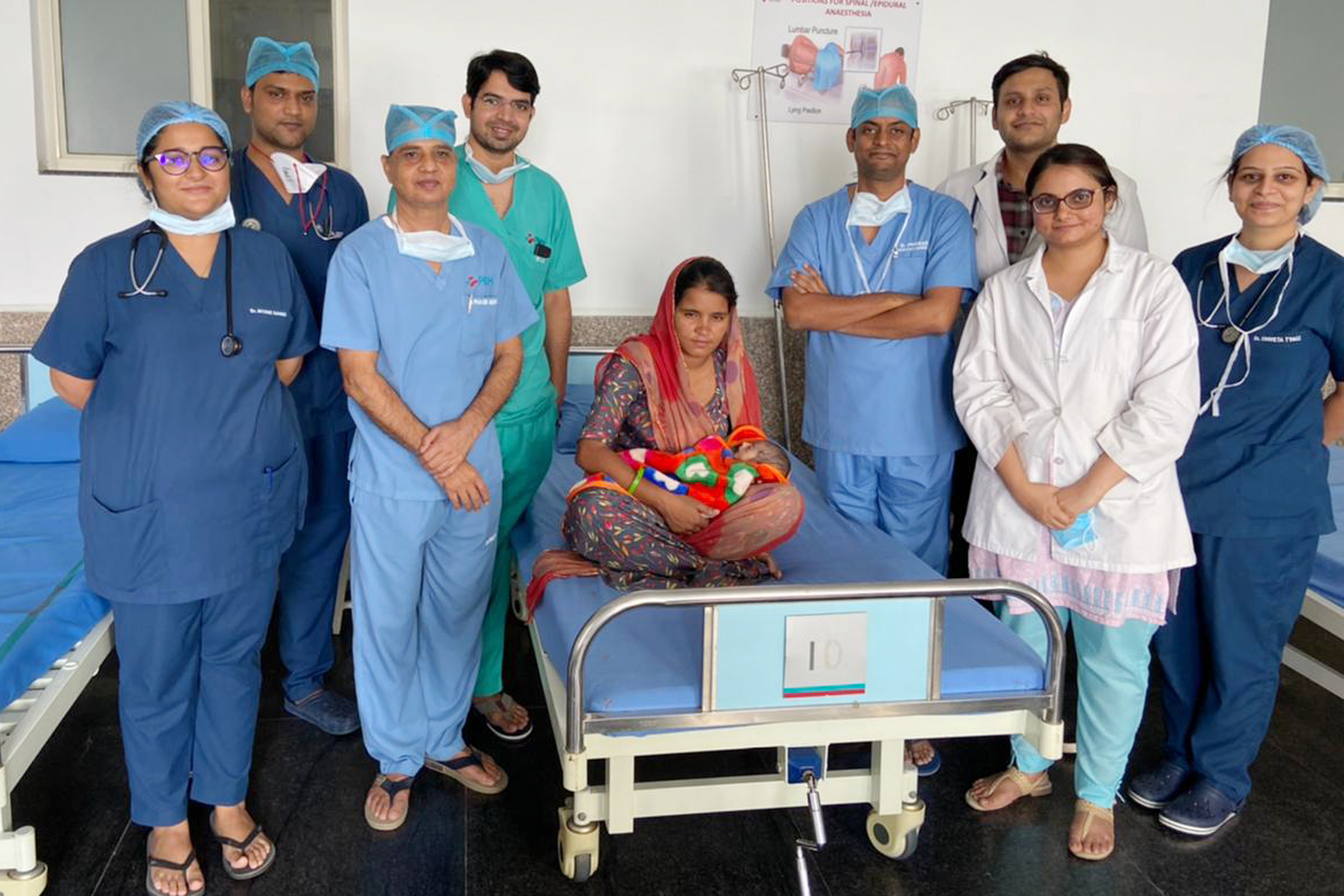 Pacific Medical College and Hospital, Bhilo, Ka Bedla, a pioneer in providing healthcare in Udaipur, with its affordable super specialty facilities, has given a new lease of life to a newborn girl child with a successful operation for a complex lung disease 'Congenital Cystic Adenoid Malformation.'
The child and neonatal surgeon team supported the process: Dr. Praveen Jhanwar, Dr. Prakash Audichya, Dr. Shilpa, Dr. Krishna Gopal, Anil Bhatt, and Manish of the Department of Anesthesia.
Actually, the 25-day-old girl started having breathing problems 10 days after birth. The relatives admitted her to the nearest hospital. Given the critical condition of the girl, the doctors advised the family members to go to the Pacific Hospital Bedla for the treatment of the girl child. The family brought the child to PMCH, where they showed the child and neonatal surgeon Dr. Praveen Jhanwar. Seeing the critical condition of the girl, she was immediately taken on the ventilator. On examination, it was found that a part of the right lung of the girl was damaged since birth, and pus had started forming in it. The girl was suffering from 'congenital cystic adenoid malformation. This genetic disease was treated only by operation.
Child and Neonatal Surgeon Dr. Praveen Jhanwar said that congenital cystic adenomatoid malformation is a benign lung lesion that appears as a cyst in the chest before birth. It is made up of abnormal lung tissue that does not function properly but continues to grow. Cystic adenomatoid is also often referred to as congenital pulmonary airway malformation. It develops before birth in babies and can vary in size, and can be either fluid-filled or solid. A large cyst is called a macro cystic lesion, and a smaller cyst or solid-looking lesion is called a microcystic.
Dr. Jhanwar clarified that this type of disease is found in anyone in ten thousand children, and early operation in this type of disease helps to get rid of the disease.
The family members of the girl expressed their gratitude to the chairman of PMCH, Rahul Agarwal, all the doctors, management, nursing personnel, and staff. The girl is completely healthy now, and she has been discharged.
साभार :
---
© CopyRight Pressnote.in | A Avid Web Solutions Venture.