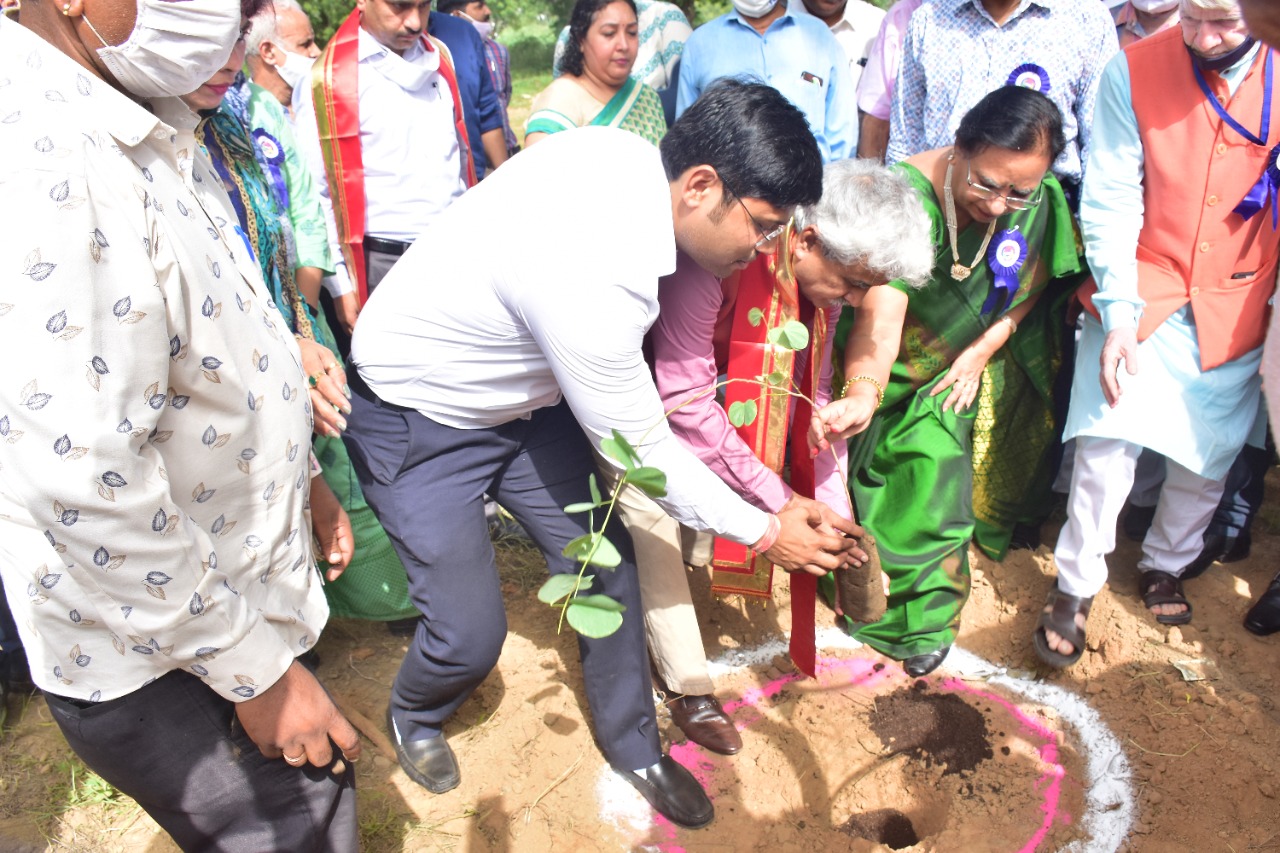 Udaipur. Intensive Plantation was done in and around the Vice Chancellor's residence on Thursday morning to commemorate the successful one-year tenure of Professor Amarika Singh, Vice-Chancellor of Mohanlal Sukhadia University.
This event was organized under the joint aegis of consumer rights organization Rajasthan Pradesh in the memory of his late wife, Sheela Jaroli, courtesy of Municipal Corporation Councillor and former section officer of the university, Karan Mal Jaroli.
On this occasion, Vice-Chancellor Professor Amarika Singh, Deputy Mayor of Municipal Corporation Paras Singhvi, Municipal Commissioner Himmat Singh Barahth, Deputy Forest Conservator Mukesh Saini, State President of Consumer Rights Organization Rajshree Gandhi, State Vice President Dr. Mahendra Singh, National Boxer Mehak Sanadhya in the presence of Plantation was done. On this occasion, Dean of Science College Prof Ghanshyam Singh Rathore, Dean PG Studies Professor Madan Singh Rathore, Dean of Commerce College Prof PK Singh, Acting Registrar and Controller of Finance Dalpat Singh Rathore, Dean of Law College Dr. Rajshree Choudhary, Associate Dean of Arts College Prof Jinendra Jain, SMS Director Prof Hanuman Prasad, Faculty of Education Director Prof CR Suthar, DSW Prof PM Yadav, Chief Proctor Prof BL Verma, Sushma Arora, President Rotary Club Vasudha, All the teachers and staff, members of various organizations and public representatives were present.
Addressing the program organized after the Plantation, Vice-Chancellor Professor Singh described the plants as the representation of the deity. He said that it is essential to save the environment, and for this, we all should do intensive Plantation regularly. Only then can we avoid future environmental hazards.
On this occasion, a COVID vaccination camp was also organized at the guest house in which people enthusiastically got vaccinated. In charge of Dr. PS Rajput, Camp informed that 700 people were given a second dose of Co-vaccine.
साभार :
---
© CopyRight Pressnote.in | A Avid Web Solutions Venture.