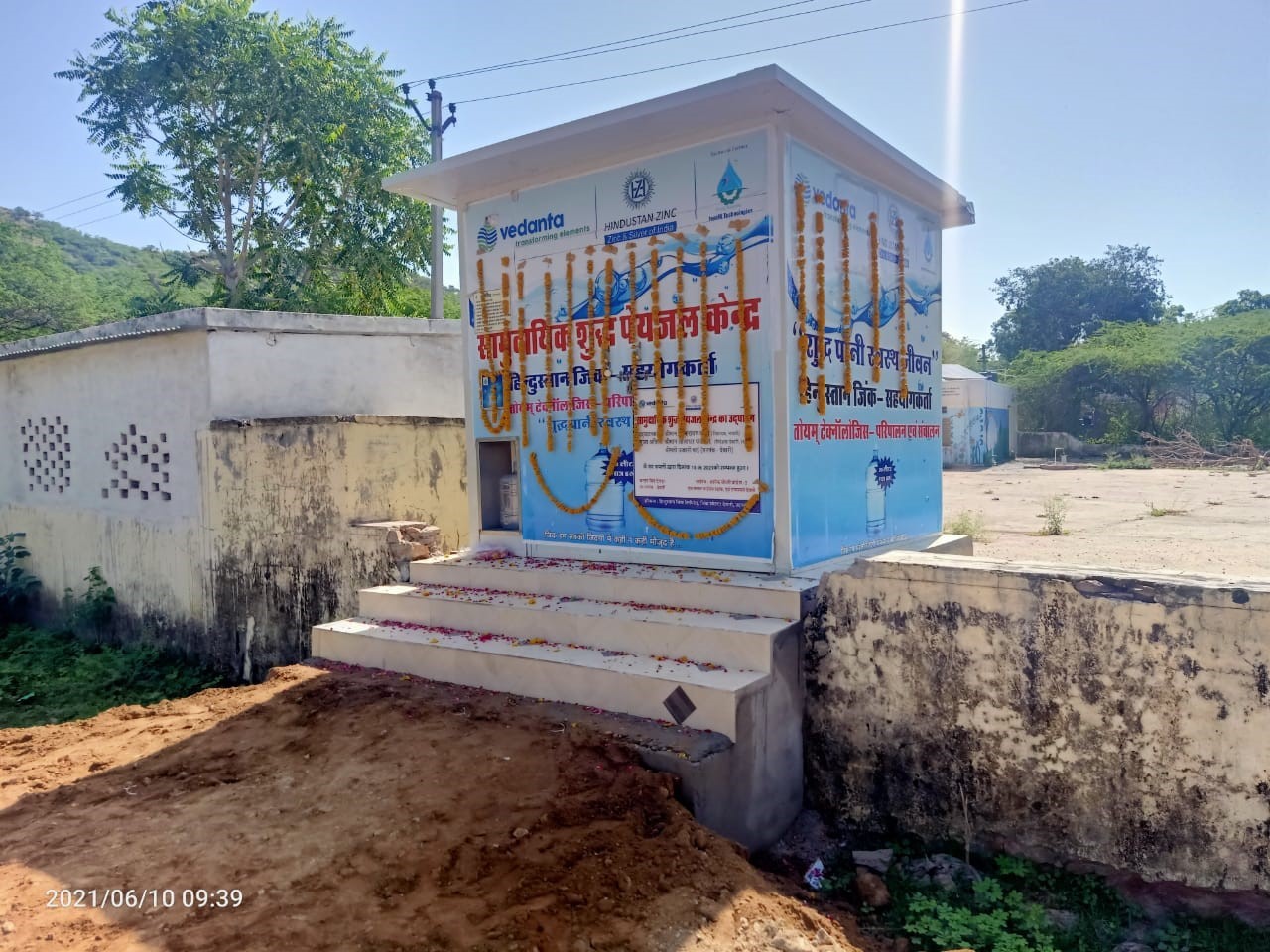 Udaipur: Sustainability and water positivity are at the core of Hindustan Zinc's principles, be it for its operations or its surrounding communities. Rajasthan is a water-scarce state and Hindustan Zinc has been making constant efforts in conserving water as well as ensuring water sufficiency for its surrounding villages, especially for safe, drinking water. To make villages near Debari location water sufficient, Hindustan Zinc's Smelter at Debari installed and inaugurated a water ATM of 3000 liters capacity at Singhwaton ka Wada.
Inauguration of the water ATM was done by Mr. Dharam Narayan Joshi, MLA - Mavli, along with key village stakeholders and PRI Representatives as well as employees of Hindustan Zinc. The guests appreciated the support extended by Hindustan Zinc towards the communities, as this initiative will likely benefit more than 5000 community members from nearby communities on a daily basis. To date, Hindustan Zinc has installed a total of 13 RO plants and 39 water ATMs across its operational areas, that provide safe drinking water facilities to members of local villages.
As part of its core philosophy, HZL works closely with its communities to create value for its stakeholders and drive overall social-economic development. The company is currently impacting the lives of about 5 Lakh people through various community development initiatives. The CSR initiatives focus on 184 villages in the vicinity of its business operations in Rajasthan.
About Hindustan Zinc Limited
Hindustan Zinc, a Vedanta Group Company, is one of the world's largest and India's only integrated producer of Zinc-Lead and Silver. The Company has its headquarters at Udaipur in the State of Rajasthan where it has its Zinc-Lead mines and smelting complexes. Hindustan Zinc is self-sufficient in power with captive thermal power plants and has ventured into green energy by setting upwind power plants. The Company is ranked 1st in Asia-Pacific and globally 7th in Dow Jones Sustainability Index in 2020 amongst Mining & Metal companies. Hindustan Zinc is a certified Water Positive Company, a member of the FTSE4Good Index, and has scored 'A' rating by CDP for climate change.
Being a people-first company, Hindustan Zinc believes in inculcating the values of Trust and Excellence to have a culture of high-performance in its workforce. The company takes pride in having some of the best-in-class people practices and employee centric initiatives, which have certified Hindustan Zinc as – 'Great Place to Work 2021', 'Company with Great Managers 2020' by People Business and the PeopleFirst HR Excellence Award.
As a socially responsible corporate, Hindustan Zinc has been relentlessly working to improve the lives of rural and tribal people residing near its business locations. The company is amongst the Top 15 CSR Spenders in India and are currently reaching out to 500,000 people in 184 core villages of Rajasthan and 5 in Uttarakhand. As a market leader, Hindustan Zinc governs about 77% of the growing Zinc market in India.
Learn more about Hindustan Zinc on - https://www.hzlindia.com/home/ and follow us on LinkedIn, Twitter, Facebook, and Instagram for more updates.
साभार :
---
© CopyRight Pressnote.in | A Avid Web Solutions Venture.