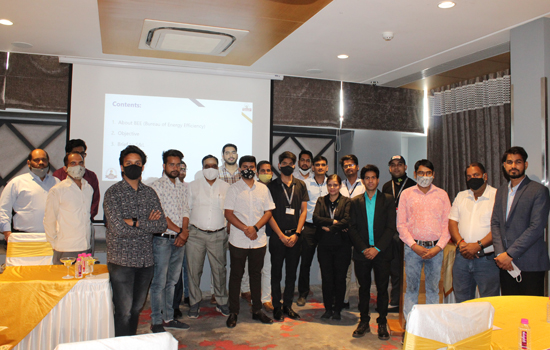 The Bureau of Energy Efficiency conducted Udaipur | This retailer training program with Vivekananda Global University under a standards and labeling program supported by Design2Occupancy Services LLP and Forti. The program provided electronics and electrical retailers and dealers with detailed information about the standards and labeling program and the BEE Star rating.
Addressing the program, Mr. Praveen Suthar, co-chairman of Forti branches, said that today, our whole life is connected with energy, so we should not misuse power in view of the increasing consumption. Every citizen of the country is aware of this direction, saves every possible energy, and also tells its importance to others.
The Project Officer of Rajasthan Renewable Energy Corporation Limited (RRECL), Mr. Manish Songra, exchanged his views about BEE Star rated devices' benefits between retailers and consumers. The Chairman of the National Human Rights and Child Development Commission, Mr. Govind Jangid, BEE Certified ECBC Master Trainer Mr. Vishal Jain, and K. CCI General Secretary Mr. Girish Sharma also spoke on occasion.
The training was conducted by Mr. Kishan Khatri, Manager, Design2Occupancy Services LLP, and Mr. Swapnil Jain, Deputy Manager, Design2Occupancy Services LLP, from Jaipur.
साभार :
---
© CopyRight Pressnote.in | A Avid Web Solutions Venture.