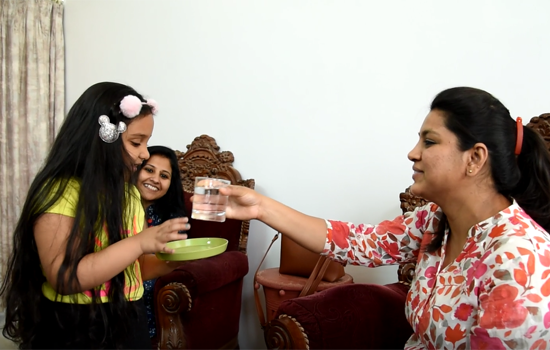 (Martand Foundation, Udaipur released two short video films "Half glass of water" and "accelerator and Brake" on the occasion of World Water Day,22 March,2021. The writer and director of films Vilas Janve has made the films entertaining by using puppets and songs besides human characters. The objective of film is to sensitize people towards the value of Water and contribute in its conservation. Manish Sharma, Preeti Kukreja, Bhavna Sharma, Miraya Mehta, Kiran Janve and Abhinav Mehta have shown their talent in the films. The videography was done by Shivam Rajdeep Sharma, Sound by Samarth Janve and Editing by Bhuvan Sharma. Martand Foundation will be happy to share the films with interested and committed people for conservation of Water. These films are also available on the Face book of Royal Harbinger and can be downloaded.
Going one step ahead Matrand Foundation is keen to energize children in creating stage performances to enhance their creative pursuits. To start with the Foundation will help children with the readymade script of play "Raakh sako to Raakho Paani" an entertaining and educating play written and directed by Vilas Janve. This play was staged at the Rajasthan Praudh Shikshan Samiti, Jaipur on March 27, 2009. The play was released on the same day in the presence of senior theatre director Ranveer Singh, Rajendra Boda, president of the State Reference Center, and senior educationist Ramesh Thanvi. Since then, the plays have been performed in various states of the country.
"Water being most important aspect of human life, we have to return to our old style of living where all the important aspects of Nature were given full regard" says Janve. Based on water conservation and rain water harvesting this play gives ample scope to children to use their own imaginations to add or improvise scenes according to local circumstances. Interested children, teachers and theatre persons can get script of the play from RH as gift of World Theatre Day. If needed, free consultancy will also be given by Vilas Janve through RH to enhance the effect of the play.
साभार :
---
© CopyRight Pressnote.in | A Avid Web Solutions Venture.