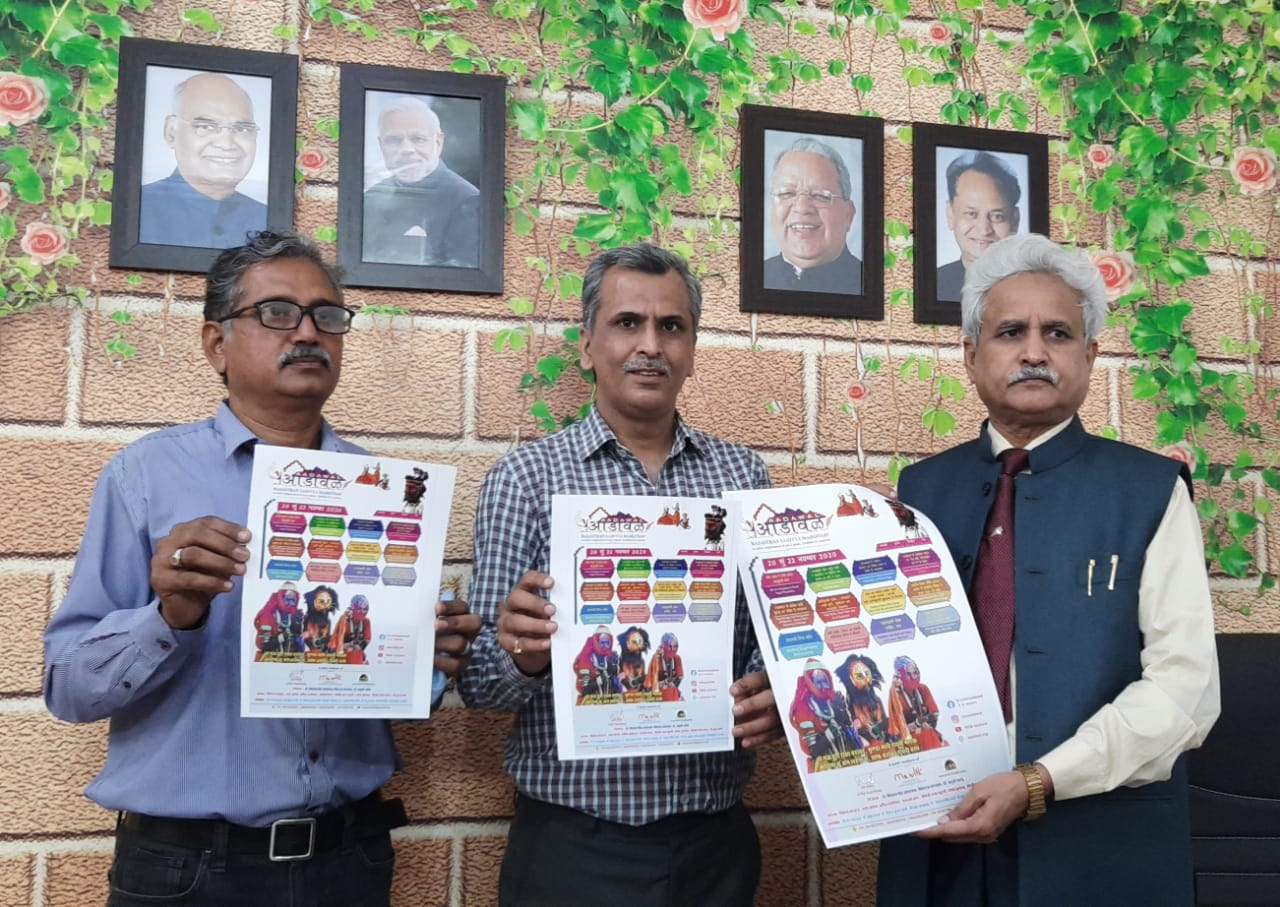 Udaipur . No country in the world is left untouched by the furore of Corona now. In the world where employment is dependent on each other as a chain, then in Rajasthan, the protection of folk arts and art families is dependent on the tourism industry due to livelihood display mode. Here, due to the non-staging of Bhil tribe of Bhil tribe of South Rajasthan during the disaster period, it is a time of happiness for thousands of families, at such a time, the artists are trying to save the identity of their talent.
* City Palace Udaipur will have an honor ceremony *
It was under this that last year the folk art honor was given to dancer Vijayalakshmi Ameta and this year the painter Om Prakash Soni. In this series, Advaal Shaurya Samman will be presented to Rajmahal Udaipur on November 18 at the hands of Maharaj Kumar Lakshiraj Singh Mewar for duty. To bring a smile on the face of folk artists and litterateurs and to enable families, the International Rajasthan Sahitya Mahotsav Adav, to be held from 20 to 22 November 2020, started by District Collector, Udaipur Chetnaram Deora and Mo. Su The message was unveiled by University Vice Chancellor Professor America Singh.
The message on the poster in the magazine for Corona Awareness "Two yards of ash truly, Munda Mathai Rakhou mask. In Corona Soon Jung fighting, clean hands truly." The character of Rai has been aired in Ankit Kar Bhil Loknatya Gawri. Mosuvivi Vice Chancellor Prof. On this occasion, praising the efforts made by the US Singh for the development of Rajasthan, the preservation of cultural values, and said that such programs will not only develop education in this region, but preserve the rich heritage and knowledge of the extinct traditions of the tribe. Will be able to go
* The program will be in three parts: discussion sessions *
Organizer Ami Institute Secretary Rajeshwari informed that there will be 12 sessions in the festival. In which the subject experts will discuss the rich heritage of Rajasthani language with mainly tribal tribes, the Western Region Cultural Center and Raj Ujas have given their participation as the main partners of the program, it will be able to preserve and promote the traditions of folk art.
1 tribal folk art, culture, forest herbs, virtues, costumes, music and painting.
2 Rajasthan's geological heritage, tourism, cinema, national education policy 2020 and primary education in mother tongue.
3 Rajasthani dingle literature, prose-verse, poetry stage, story singing, non-fiction literature etc.
Dressing of tribes: Geological heritage of Rajasthan, forest produce of tribals, medicinal treatment, folk arts and folk theater of tribes, presentation of performing arts Padmashree Rani Lakshmi Kumari Chundavat in prose and poetry literature of Rajasthan, Padmashri Vijay Dan Datha, Padmashri Kanhaiyalal Sethia etc. The world will be aware of the discussion and thoughts on the creation, work and writing of
* Gaba Workshop Re Beginning *
Advocate Director Dr. Shivdan Singh Jolavas said that the way Khadi has taken the country out of the chains of slavery, the small cottage industry businesses have strengthened Indian enterprise during the global recession, epidemic, and handloom artists from our economy. The road will be strong, so the saga of costumes is being held in Adav. Only by surviving the dyeing printing industry will the identity of Rangrez Chimp and other castes be saved. In Rajasthan, on the birth of a girl and a girl, Zachara is dressed in a different color of pomcha, in Hadoti, the characteristic of black colored pomcha, instructive information is being provided with colorful costumes.
Gaba convenor Dr. Doli Mogra said that young talent designers from many parts of the country are joining them enthusiastically by looking at new opportunities by giving attractiveness to the tribes' clothes, they are getting the block print of Rajasthan, printing of natural colors, Ajarak, Dabu, Wheat Bandhani, Tabak printing. , Malir etc. are being given fine training and they will be identified as employment oriented arts. Works of Kashida, Satdani, Mukesh, Durmucho, Bankari, Zardozi, Zari, Lahariya, Mothra, Chunri etc. will be displayed in the exhibition. Through this, traditional costumes of castes like Rebari Garasia, Banjara, Kalbeliya, Gadolia, Gurjar Rajput etc. of Rajasthan will be presented in a new form with Khadi.
* Guest speakers to be connected to every part of the country *
The Rajasthani Motyar Parishad is fully associated with the event along with Director Dr. Jollavas. From the virtual platform of Adav, IAS Kiran Soni Gupta, Dr. Jitendra Kumar Soni, former NSD Director Dr. Arjun Dev Charan, In-charge Tourism Officer from Kolkata, Hinglaj Dan Ratnu, Special Translator of Bijji's stories, Mr. Kanhaiyalal Sethia G. Son Jayaprakash Sethia, IFS Rajkumar Singh, former RAS Mr. Dinesh Kothari, Zee News State Editor Manoj Mathur, M.C. Pratap Agricultural University Vice Chancellor Professor NS Rathore, Former Secretary IAS, Aditi Mehta, Doordarshan, Former Director, Nand Bhardwaj, MP Arjun Lal Meena, Former MP Raghuveer Singh Meena, Minister of Rajasthan Government Pratap Singh Khachariwas, MLA Jogeshwar Garg, Mrs. India Smt. Ritu Khosla, KK Nareda, Delhi, Dr. Ghanshyam Nath Kachhwaha, Atul Kanak, Manoj Kumar Swamy etc. will give heights to the event with their presence in various sessions. Administrative Officer Art of Penetrating Literature with scholars from Mumbai, London, Canada, Atlanta, etc.
साभार :
---
© CopyRight Pressnote.in | A Avid Web Solutions Venture.