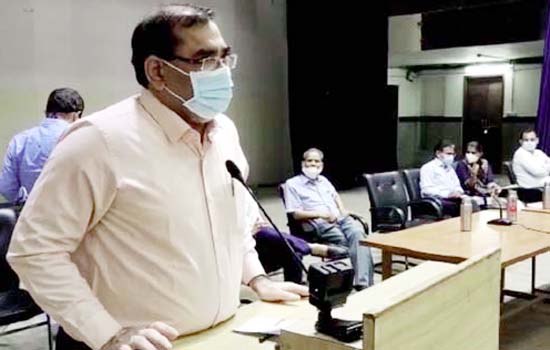 Udaipur: (Dr. Munesh Arora) As per the instructions of State Chief Minister Mr. Ashok Gehlot, District Collector Chetan Deora said in the Municipal Corporation Auditorium to convince the intention of 'mass movement against Corona' starting in October 2.in an open dialogue with various organizations and officers and employees, in this dialogue, all present in one voice assured public support and possible cooperation to follow the Corona Protocol to drive away from the Corona and run it as a mass movement.Things will change if we join hands: Collector.Addressing the dialogue program, District Collector Chetan Deora said that there had not been a big crisis like Corona on humanity in the last hundred years. Whoever is negligent, Corona catches it, and the situation will change in 15 days if we try not to wear masks and fold hands with someone who does not comply with the Corona protocol. He said that three mantras are to protect against Corona - wear masks, wash hands, and maintain social distance. On this occasion, he said that there is a need to unite for the people's movement against Corona, let us all together make everyone aware, and only then we will be able to defeat it. Citing the example of the leopard and lamb race, Collector Deora said that the leopard runs for bread and the lamb for life during the meeting. In this, we see that life runs faster than bread. The same is true of Corona. We have to run faster for life.
During the meeting, Municipal Corporation Mayor GS Tank said that it is necessary to apply masks until they leave the house and return.
In the Chief Minister's VC, Udaipur district has been given the target of 2 lakh masks, while the district hospital needs ambulances, for this Bhamashah should cooperate. He said that to avoid Corona, people would have to curb the habit of sitting together and drinking tea.Up-mahapour Paras Singhvi said that it is our moral responsibility to save the lives of the people.
The administration is trying to keep people by risking their lives. In such a situation, public representatives will also have to make the mass movement successful. Corona will be avoided not by closing the shop, but by convincing the shopkeepers and stopping the crowd gathering there.Municipal Corporation Commissioner Qamar Chaudhary said that every person needs to start the campaign on his own before the city. If we intercept 5 to 10 people every day, then we will be able to stop it. To make children a medium of awareness and spread awareness through all their WhatsApp group.Zilla Parishad CEO Dr. Manju recently shared her experiences of Corona infection and told everyone to be cautious to prevent it.Urban Development Trust Secretary Arun Hasija said that Udaipur is a city where people help in times of trouble; now, once again, there is a need for people's support to make this mass movement a success. ADM administration OP Bunkarinformed about the efforts to rescue the Corona in the district and called for the campaign to be successful.CMHO Dr. Dinesh Kharadi, Municipal Corporation Deputy Commissioner Anil Sharma, and a large number of enlightened people were present in the meeting.The enlightened people in the mass media have these views:
Ravindra Shrimali - If we all do not warn now, the coming generations will not forgive. All the councilors should inform the people in their wards.
Ramesh Singhvi - Everyone should cooperate for public awareness in Corona's rescue operation and make this campaign a success.
Mustafa Sheikh - Administration should maintain social distancing maintenance to shopkeepers and customers on the treads on Sukhadia Circle and Fatehsagar.
Manish Galandia - No association, no entry boards will be installed on behalf of the Hotel Association.
Yudhishthira Kumawat - Assures that the campaign will strive to fulfill the administration's expectations and make people aware.
Prem Shankar Shrimali - There is a need to maintain hygiene in food and drink, so efforts will be made to spread public awareness through Scout-Guide and NCC.
Ratna Mewafarosh - Anyone who does not follow the Corona Protocol should interrupt. If the Mask comes off, then the honor goes down.
Lokesh Gaur - Whatever responsibility will be given to the councilors, it will be fulfilled.
Arun Tank - When the public awareness has taken place, then the epidemic has fallen, we will all join together in this campaign, Corona can be banished.
Amardeep Singh Chawla - Like Sikh society, every society should convince its people through messages, and in 15 days, there will be a change.
Ashish Kothari - All social organizations should create awareness for corona rescue by distributing more and more masks.
Shilpa Pamecha - People's representatives follow the Corona Protocol and carry 10-15 masks in their bags and distribute whatever they see without Mask; some people will start wearing masks with this shame.
Nana lal Vaya - Dehli Gate and Mukherjee Chowk Vegetable Market to control the crowd. I myself will present 21 thousand masks to the administration on the birthday of the son.
Surendra Pandey - If Bhamashah provides the cloth, the scout-guide will make a mask on his workforce.
Chogalal Bhoi - The poor people in the municipal corporation should be supported. Councilors will help the administration in this task.
Titu Suthar - Purchase five masks for just Rs 10 daily and keep them in your pocket; wear whatever you see in the market without a Mask; the Corona will run away efficiently.
Jaya Kuchro - Action is necessary against those who bathe in Fatehsagar. I will give 1001 masks on my behalf, along with preparing slogans and posters.
Sunita Jain - Slogans like 'two yards distance, mask required' should be written on the wards and significant intersections and think sensitively towards vegetable-handlers.

साभार :
---
© CopyRight Pressnote.in | A Avid Web Solutions Venture.