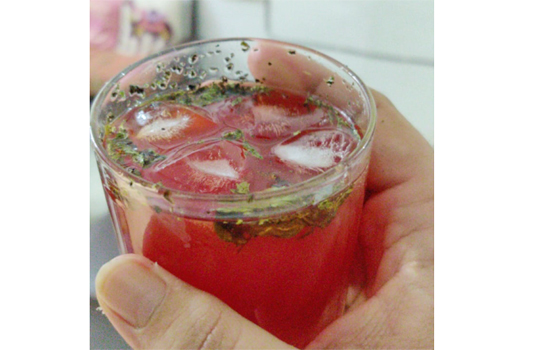 Ingredients

For cumin Water

Cumin seed: 2 Tbs

Water: 500 Ml

For Beetroot syrup

Beetroot: 500 Gm

Water: 1.25 Lit

Honey 2 Tbs

Lemon: 2 Lemon Juice

Chopped Mint Leaves: A few

Black Salt: ½ Tsp

Procedure

Step 1

1. Boil cumin seed in water

for 20 minutes in low flame.

2. Reduce it to half.

3. When it gets cool,

grind coarsely with water

at keep it in refrigerator.

Step 2

1. Pill, wash and cut beetroot into small dices.

2. Boil beetroot for 25 Minutes or till it gets tender.

3. Take out from fire, stain it and keep aside.

4. When beetroot juice gets cool add cumin mixture, black salt, lemon Juice mint

leaves chopped, honey and some crushed ice.

5. Pour it into long stem glass and garnished with lemon and Mint Leaves.
Chef Satish Tips:

1. All root vegetable should be boiled from cold water

2. Cumin water can be stored in refrigerator for 1 weak;

you can use it whenever

you want to make refreshment.

3. Beetroot can be replaced with cucumber, carrot, only mint

leaves, orange etc .

4. Cumin is highly antioxidant and boost digestive system.

Beetroot helps in blood purification and immunity booster.


---
© CopyRight Pressnote.in | A Avid Web Solutions Venture.