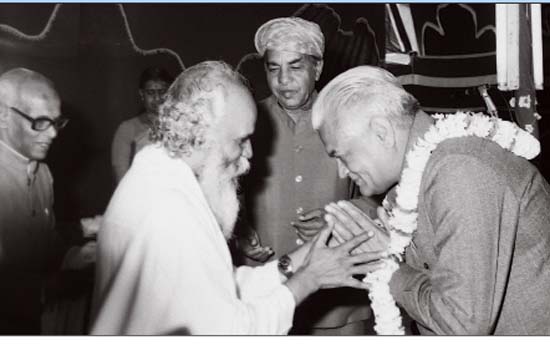 Udaipur: Maharana of Mewar Charitable Foundation - The 37thMaharana Mewar Foundation Annual Awards will be held on the 10th March 2019
Maharana of Mewar Charitable Foundation (MMCF) is preparing to organize the Maharana Mewar Foundation 37th Annual Awards Distribution Ceremony (MMFAA) on 10th March 2019. Standing true to its vision to perpetuate its core values of service to society and mankind and serving as a temple of inspiration to future generations MMCF continues as a model of sustainability of 'Eternal Mewar',
MMCF has been organizing this award ceremony since 1980-81. The scope and spectrum of the awards has been steadily widening since the first Award Ceremony. At present MMFAA not only applauds students but also honours international and national scholars for their work of permanent value to society. Amongst some of the eminent personalities who have graced the MMFAA platform receiving an award are Sir V. S. Naipaul, Dr. Chitranjan Singh Ranawat, Sir Gulam Noon, Professor Sir Angus Deaton, Mr. Sunil Gavaskar, Ms. LataMangeshkar, Mr. ShyamBenegal, Mr. KisanBabuRao (Anna Hazare), Dr. BindeshwarPathak, Ms. Aruna Roy, Mr. Rahul Bose, Dr. Mandakini and Dr. PrakashAmte, Dr. Tessy Thomas, Ms. Anu Aga, Ms. Amla Ashok Ruia, Ms. P. T. Usha, Dr. R. Vasudevan, Mr. JadavMulaiPayeng, Mr. Amaan Ali Khan, Mr. Ayaan Ali Khan, Dr. E Shreedharan, Prof. SatyavratShastri and many more. MMCF instituted the National Annual Award 'Haldighati Award' in 1982 – 1983 and the award consists of a Ceremonial Shawl; 'Toran' plaque of honour; Citation Certificate and Cash award of Rs. 1,00,001/-. Haldighati is the valley, near Nathdwara, District Rajsamand, Rajasthan where on 18th June 1576 Kunwar Man Singh of Amber mounted his mighty war elephant and led the Mughal armies against RanaPratap who on his incomparable white Stallion Chetak carried the crimson banner of Mewar into the midst of the battle. Neither lance nor sword, nor the arrows that rained like hail around him could stem the course of that intrepid charge. For the first time in fifty years the Mughals suffered their first setback and Haldighati shattered the myth of their invincibility - symbolic of the war that was fought for the protection and preservation of self respect, self reliance and independence. The battle of Haldighati unlike any other battle in the military history of warfare has produced the greatest and most multifaceted interest. This single occasion has raised issues of social context, the composition of opposing forces, the efficiency of execution of the adopted strategy and tactics and finally most touchingly the acts of unparalleled bravery, unmatched sacrifices and unimaginable fighting skills of a few individuals who participated in this battle. All these issues have assumed tremendous significance, as time goes by.
RanaPratap is a national hero on account of his commitment to preserve the independence of Mewar, at any cost, despite heavy odds stacked against him. Even now his life inspires those who revere the value of living with self respect and self reliance. Today those who are prepared to speak out, or use their pen without fear of the consequences to enlighten society, are synonymous with the battle of Haldighati.Haldighati Award is a National Award. It is awarded to an individual for work of permanent value in awakening society through the medium of journalism, in particular, or through any other media in general.
Honour Roll
1983 Mr. Karpur Chand Kulish Jaipur
1984 Dr. DharmvirBharti Bombay
1985 Late LalaJagatNarainji (Posthumous) Jallandhar
1986 Shri C.H.O. Ramaswamy Madras
1987 Shri M.J. Akbar Calcutta
1988 ShriKuldipNayar New Delhi
1989 Shri R.K. Laxman Bombay
1990 Ms. MrinalPande New Delhi
1991 Shri Nikhil Chakravartty New Delhi
1992 ShriSurendraPratap Singh New Delhi
1993 Ms. MadhuKishwar New Delhi
1994 Mr. Vinod Mehta New Delhi
1995 Ms. Nalini Singh New Delhi
1996 Dr. Prannoy Roy New Delhi
1997 Mr. LokpalSethi Jaipur
1998 Mr.VinodDua Jaipur
1999 Mr. Rajat Sharma New Delhi
2000 Ms. MaliniParthasarathy Chennai
2001 Mr. Gaurav C. Sawant New Delhi
2002 Ms. BarakhaDutt New Delhi
2003 Mr. Om Thanvi New Delhi
2004 Mr. MuzafferHussain Mumbai
2005 Mr. Shekhar Gupta New Delhi
2006 Mr. RajdeepSardesai New Delhi
2007 Mr. Alok Mehta
and Mr. Prabal Pratap Singh New Delhi
2008 Ms. Tavleen Singh New Delhi
2009 Dr. VedPratapVaidik
and Mr. Sajid Rashid New Delhi
Mumbai
2010 Mr Sanjeev Srivastava New Delhi
2012 Ms. HarinderBaweja
And Dr. Gulab Kothari New Delhi
Jaipur
2013 Mr. ArnabGoswami Mumbai
2015 Mr. PiyushPandey Mumbai
2016 Mr. Rahul Kanwal New Delhi
2017 Mr. Praveen Swami Noida
2018 Ms. SuhasiniHaider New Delhi