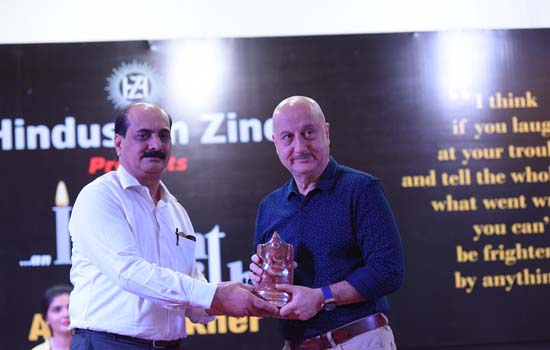 Udaipur: One of the most versatile actors, a brilliant storyteller and motivational speaker AnupamKher, addresses around 300 employees of Hindustan Zinc on 18th June 2018 at Hindustan Zinc Auditorium, Udaipur.
"Embrace the ordinary in you. The power of failure in life will take you to heights that you could never have achieved otherwise", said AnupamKher while interacting with the employees of Hindustan Zinc, under the Company's initiative – "An Insight".
Having done over 500 films, AnupamKher feels that he has only reached the 'Interval' of his life. He says, 'Picture AbhiBaakiHai Dost'. He also motivated the employees by asking them not to lose hope and faith in their unique self. He said, "Life has given you many opportunities. Make the best of it."
In his opinion, life cannot be taken for granted. It constantly tries to put us into a mould, do not be a part of that mould. True leaders are the ones who take immense courage to stand out from the crowd, however lonely it may sound. He stressed upon the importance of not accepting the mediocrity within, as every single person is born in this world with the right to be happy.
He emphasized on the work place culture which he believes is a two-way system, wherein, trust & communication are two factors which should be mutual from both the management and the employees.
'We should be always attached to our roots, as they strengthen our achievements in life', he said.
AnupamKher also participated in tree plantation along with CEO, Hindustan Zinc in YashadBhawan premises.
Sunil Duggal, CEO of Hindustan Zinc said, "This is one of the most exciting and motivating sessions that the employees of Hindustan Zinc have witnessed in the recent past. One of the many interesting aspects of this session today, is how Mr. AnupamKher emphasized on staying connected to the roots. This is what makes him a noble & humble actor, a natural speaker and a down-to-earth human being."
PavanKaushik, Head-Corporate Communication, Hindustan Zinc said, "An Insight is an initiative launched by Hindustan Zinc to break the monotony and to touch upon the finer points in life. We are grateful that Mr. AnupamKher has been very kind to visit Hindustan Zinc and enlightened us with his insights."
यह खबर निम्न श्रेणियों पर भी है:
Udaipur News