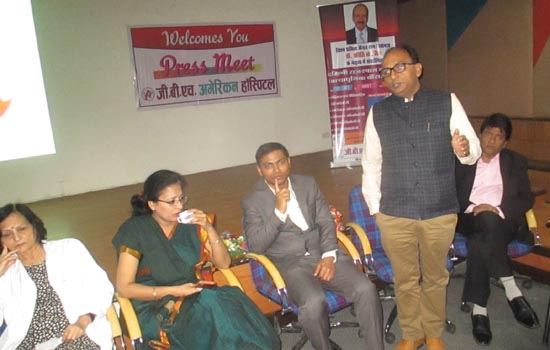 Udaipur. Immunization center has been started at GBH Memorial Cancer Hospital to prevent uterus cancer in women at growing age. This will be the first center of Rajasthan in which women will be treated for mouth cancer of the uterus.
Group director Dr. Anand Jha told in a press conference that recently Chairman Dr. Kirti Jain discussed on cancer of the uterus among women during his Udaipur visit. It was revealed that deaths from the uterine cancer are due to lack of information. It has been observed that maternal mortality rate of 44 per thousand while, the mortality rate of cervical cancer is 65 thousand annually. It can be minimized With investigation and Immunization chairman
Dr. Kirti Jain has decided to free Udaipur from Uterus Cancer without taking any profits as a campaign. women between 9 to 60 years are divided it into two parts and outlined the culture of treatment. Women of 30 and over are more likely to have uterine cancer. By this age, the virus of the uterus becomes activated or cancer begins to change.
Dr. Anand Jha said that vaccination is not possible in women in the 27 to 60 year age group. In such cases, these women will be registered in GBH Memorial Cancer Hospital. They will be able to detect the virus from their HPV (Human Papillomavirus) probe and detect the potential cancer status and it will be cured of uterine cancer by treating it on OPD bases.
Virus eliminates the beginning
Cancer psychiatrist Dr. Manoj U Mahajan said that even after negative results in the HPV test, a woman may end up with the possibility of developing uterine cancer for the next ten years. It needs to be examined again after ten years. On the contrary, women with positive results are given lifelong cancer free by giving them colonoscopy guided treatment at OPD. Such women are also discharged on the same day. This facility is available only at GBH Memorial Cancer Hospital in Southern Rajasthan. Apart from this, vaccination will be done at this center to keep women of the age group of 9 to 26 years free from uterine cancer. This three doses of vaccination will prove to be effective in preventing the cancer of the uterus of the uterus of the females. In the press conference, Group Director of Medical Services Dr. Dinesh Sharma said that GBH Memorial Cancer Hospital has been kept in check and treatment package of uterine cancer for only two and a half thousand rupees. It will be possible to get rid of the lifetime uterus. In addition to breast cancer, other cancers such as lung cancer, gastric cancer, prostate cancer, including mammography have also been included in the separate package Cancer consultant Dr. Garima Mehta, Dr. Kuresh Bambora, Radiation Analyst Dr. Mamta Lodha and Ashish Sharma were present in the press conference.
Camp from 5th February
A huge medical camp will be held at GBH Memorial Cancer Hospital from 5th to 9th February in honor of World Cancer Day. There will be a discount of up to 25 percent on consultation and up to 25 percent on 3 DCRT, IMRT, and IGRT. It will be treated with all types of cancer including pediatric and medical oncologists, surgical oncologists, radiation analyst. Apart from this, on Thursday, breast cancer veterinarian Dr. Gharima Mehta will provide services.
यह खबर निम्न श्रेणियों पर भी है:
Udaipur News