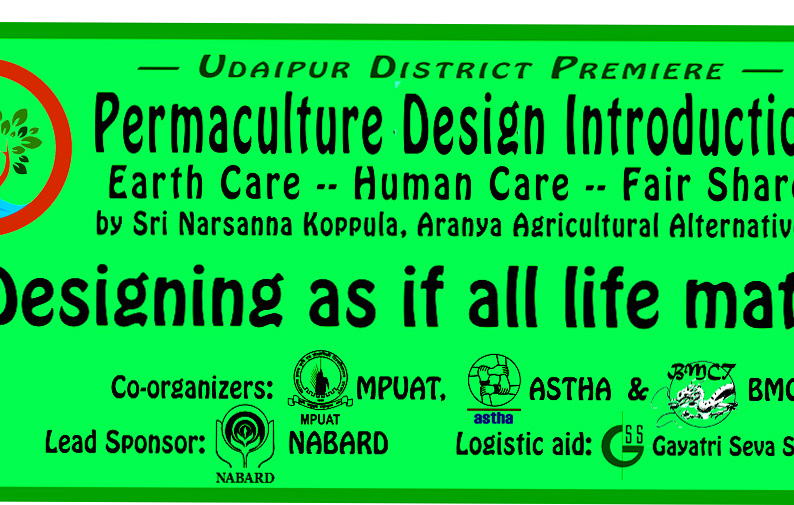 From April 28th to 30th Sri NarsannaKoppula, CEO of Hyderabad's AranyaAgricultural Alternatives, presented Rajasthan's first Permaculture Design Introductions to enthusiastic groups of Udaipur farmers, NGO activists and agricultural scholars. He explained how Permaculture principles can regenerate our farm lands, protect our ecosystems, and enliven &truly "smarten" our communities.
Sri Koppula lectures internationally and is well known as India's foremost Permaculture expert whose work has been promoted on Rajya Sabha TV. Last November he organized India's first "International Permaculture Conference" in Hyderabad, which was attended by over 1200 delegates from 60 countries.
Permaculture is an innovative agricultural & social design model for both rural and urban environments. This holistic design system maximizes benefits for ecological vitality, bio-diversity, climate remediation, public health, and sustainable rural livelihoods; and is now being used in over 120 countries.
Koppula-ji's pioneering Udaipur events were initiated by Big Medicine Charitable Trust (BMCT), generously sponsored by NABARD, co-organized by Maharana Pratap University of Agriculture & Technology (MTUAP) &AsthaSansthan, and logistically assisted by GayatriSevaSansthan.
The PDI team extended their gratitude to all the citizens, farmers & NGO activists who participated. Lead organizer BMCT's Rita Dixit added special thanks to NABARD for critical funding and MPUAT's VC U.S. Sharma and Organic Ag Research Director Dr. S.K. Sharma for sharing this progressive vision with their students and faculty.
For more information on permaculture & related activities in the Udaipur area, please contact Ms. Dixit at +91-869-637-3193 or bmct@greeningindia.net.
यह खबर निम्न श्रेणियों पर भी है:
Udaipur News