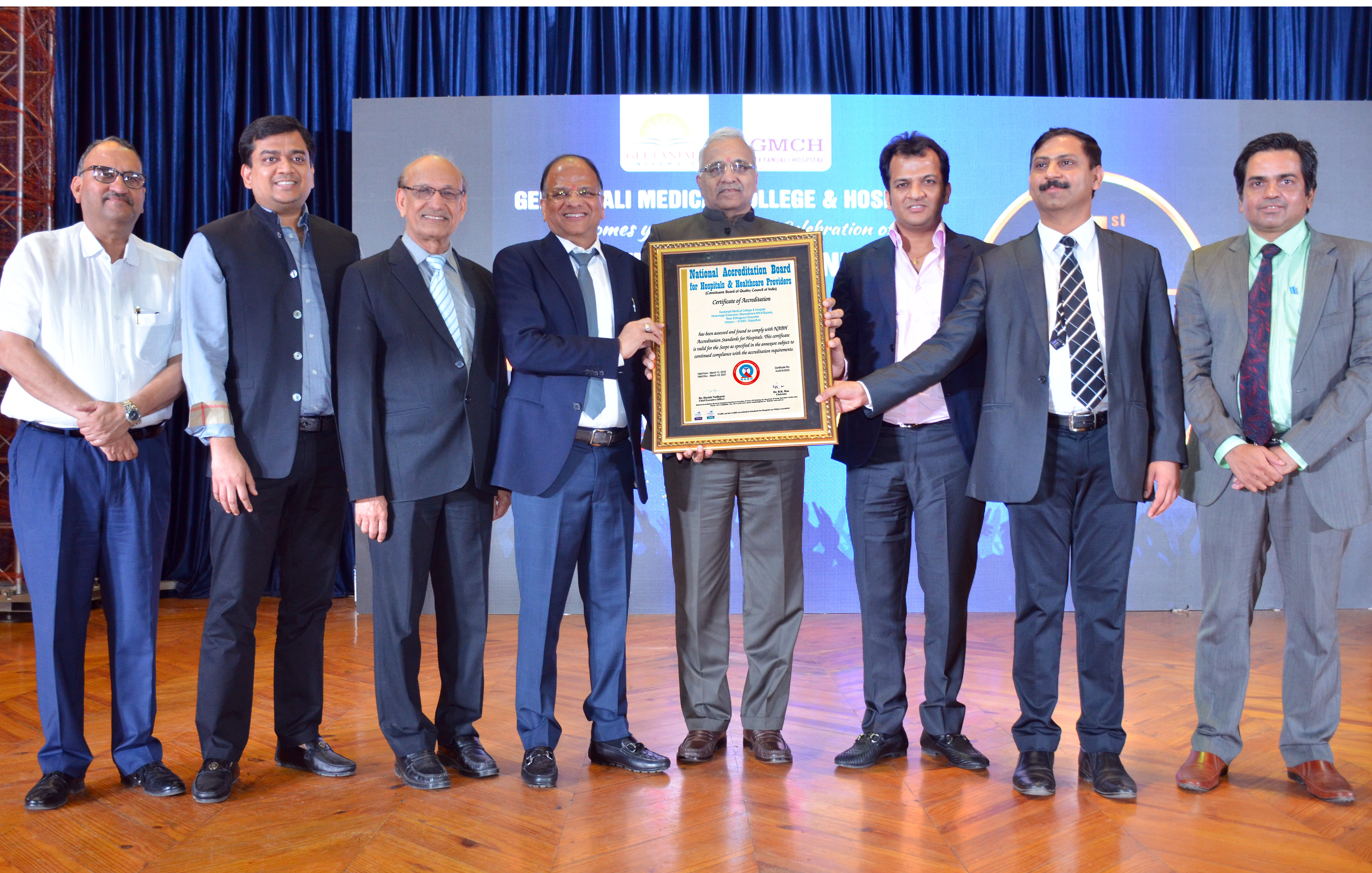 Udaipur, Geetanjali Medical College & Hospital today, announced that it has received accreditation from National Accreditation Board for Hospitals and Healthcare Providers (NABH), the highest national recognition and a mark of quality patient care and safety. This makes Geetanjali Medical College & Hospital, Udaipur the first to be accredited in the state of Rajasthan. With this recognition, it is the only medical college & super-specialty hospital with the highest national accreditation in the west zone. The program was honored by the presence of Chief Guest, Director General Association of Health Care Providers of India (AHPI) Dr. Girdhar Gyani. The program also accompanied the presence of Chairman Geetanjali Group Mr. J P Agarwal, Vice-Chairman Geetanjali Group Mr. Kapil Agarwal, Executive Director Geetanjali Group Mr. Ankit Agarwal, Vice-Chancellor Geetanjali University Dr. R K Nahar, Dean Geetanjali Medical College Dr. F S Mehta & Chief Executive Officer Geetanjali Medical College & Hospital Dr. Kishore Pujari as guests of honor.
The program marked its beginning with lamp lightning before Maa Saraswati & Ganesh Vandana by Geetanjali College of Physiotherapy's students Apurva & Group. Senior General Manager Quality Control Mr. Sukanta Das was over-whelmed & appreciated the GMCH Team to achieve this recognition in a record time of 10 months & 6 days. He also said that for a medical college & hospital to achieve this recognition is a very challenging task which has now become a milestone in history. Dr. Kishor Pujari congratulated everybody for this proud moment & said that the accreditation so achieved is a matter of pride and historical moment.
The NABH Certificate was handed over to Mr. J P Agarwal, Mr. Kapil Agarwal, Mr. Ankit Agarwal, Dr. R K Nahar, Dr. F S Mehta & Dr. Kishor Pujari by Chief Guest, Dr. Girdhar Gyani.
Speaking on the occasion, Mr. J P Agarwal said, "We at Geetanjali Hospital are proud that our hospital has been accredited by NABH. We are constantly working towards providing the best of services to our patients, enabling the benefits of the latest technological developments in the field of medicine. Patients are the highest beneficiaries of the accreditation as it assures high quality of patient care and safety. This achievement strengthens our commitment to fulfill the needs of the community and provide patients care essential for their well being. This has been the aim since its inception to provide quality care & better treatment for patients"
Dr. Girdhar Gyani, Director General NABH spoke on the benefits of accreditation to the patients, society as well as the medical community. He mentioned, "It was a moment of pride for NABH also to be awarding the first accreditation to Rajasthan, which is the 19th state in the country to have an accredited hospital & medical college. Also from a list of 550 full NABH accredited hospitals, only 5 medical colleges have this recognition to which now GMCH, Udaipur has also its name registered under it. It is the continuous efforts of the Quality Council of India and NABH to ensure a quality of care the patients receive at a hospital. The objectives of accreditation are patient safety & promotion of evidence-based medicine."
AHPI Mementoes were presented to Mr. J P Agarwal, Mr. Kapil Agarwal & Mr. Ankit Agarwal and Dr. Kishor Puajri was announced the Vice-President of Rajasthan Sector by Dr. Gyani. Also, the mementos of appreciation were presented to management team & doctors of various departments of GMCH. The program was anchored by GM HR Mr. Rajeev Pandya & Himali Vyas.