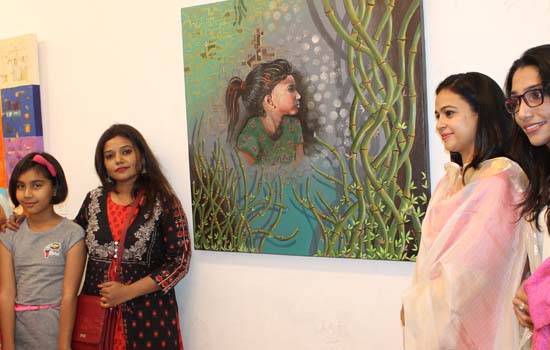 Exhibition of Women Painters of India started on International Women's Day AT BAGOR KI HAVELI
( Vilas Janve)Studio Mumuksh and Gallery Artoz jointly organized Painting Camp and exhibition paintings created by 12 prominent and upcoming artists of India. The exhibition was inaugurated by Ms Rnau Sharma, Additional S.P., Udaipur at Kalaveethi Art Gallery of Bagor ki Haveli (WZCC), Udaipur to coincide celebration of International Women's Day on March 8, 2018. All these painters had participated in the Painting Camp held at Studio Mumuksh, Badi from March 4 to March 7. Prof. Hemant Dwivedi of Studio Mumuksh added a new flavor to this Camp by inviting and staging a short play "Chief ki Daawat" directed by Anoop Trivedi. Based on the story of famous literate Bhishma Sahani emphasizing issues related to women, it was performed by students of Guru Gobind Dev Indra Prastha University, New Delhi. The students and faculty usually come to Udaipur to take part in multimedia workshops under the guidance of Prof. Ashutosh Mohan.
This play was an audio-visual treat to the women painters. The participating artists were Jyoti Devgare and Meenal rajurkar from Mumbai. Preeti Maan from Delhi and Suvarna Sable from Pune, Monika Chauhan from Ajmer and Kiran Murdia, Dr. Meena Baya, Sharmila Rathore, It Kachhawa, Deepika Mali, Dimple Chandat and Jyotika Rathor (all from Udaipur). Artists painted various aspects of human life using different formations and colors. Meenal Rajurkar painted lust of rich people in costly attire having heads of animals and birds. Kiran Murdia's painting shows the old heritage of the walled city. Dimpal Chandat has shown odds of ladies through colors. Jyotika Rathor has painted human stuck in machines and clock. Suvarna Sable used geometrical forms in shades of blue color. Jyoti Devgare chose original forms of nature for her painting. Meena Baya's work displayed various masks.
Coordinator In-charge of exhibition Veerangana Soni informed that exhibition was visited by noted artists Prof Suresh Sharma, Dr. LL Verma, Dr. Shail Choyal, Prof Hemant Dwivedi, Rajaram Vyas, Raghunath Sharma, Yugal Kishore Sharma, Ram Singh Bhati and Suneel Nimawat besides many art lovers of Udaipur and tourists.
यह खबर निम्न श्रेणियों पर भी है:
Headlines today News
,
Udaipur News