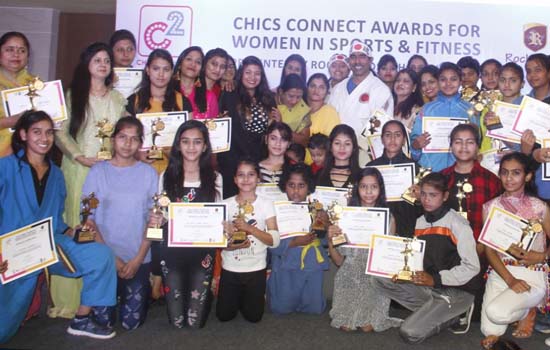 This international women's day, CHICS CONNECT organized an event at The Radisson Hotel, Lake City Mall, awarding 50 women from across Udaipur who have excelled in sports and fitness category from all age groups. As small as 4 to women who are 50 years participated in an online application form and it was then finalized by Jury. Hurratul Maleka Taj, Founder CHICS CONNECT, voiced out the importance to keep the selection process very fair and organized so that real talent can get recognition and hence a Jury Panel was made which had Mr. Dishant Yagnik (star cricketer), Mala Sukhwal (international weightlifter ) and Surbhi Misra ( Squash Champion). There were many eminent people from city invited as a guest of honor. Hamida Banu( international athlete) , Deepak Sharma ( Director, Rockwood School ) ,Swarnim Methane( Fitness Trainer) , Raj Menaria ( Sensei Raj Academy), Alka Sharma ( Director, CPS) , Arjun Paliwal ( AXN Sportstainment ), Richard Barooah ( General Manager, Radisson Hotel ) , Meeta Khaturia ( Founder Pinks and Peaches ) , Dishant Yagnik ( Star cricketer from Udaipur) , Neeru Tandon ( Principal Rockwood). The function was supported by brands who were also power partners and they are Hospitality Partner : Radisson Hotel, Gifting Partner : INIFD, Trophy Partner :Pinks and Peaches, Fitness Partner : Vindeep's Fit List , Sensei Raj Academy : Performance Partner, Udaipurwale : Online Media Partner, Radio City : Radio Partner, Pink Eye Entertainment : Event Management Partner. Mr. Richard Barooah, General Manager Radisson Group supported the ceremony with the venue and the amazing hospitality for all the guests as he himself firmly supports women empowerment. It is with the help of these brand partners and the entire team that this event could achieve huge success. 50 women who won the awards are :
1. Labdhi surana
2. Shreya Mehta
3. Ridhima khamesra
4. Vidhi Dungarpur
5. Unnati Nahar
6. Pratiti Vyas
7. Anshika Goyal
8. ishita shah
9. Katyayani Joshi
10. ANVI JAIN
11. Jhalak Tomar
12. prachi soni
13. Manali Panchal
14. Khushbu gurjar
15. Dr Guneet Monga Bhargava
16. Rinku Jain
17. Itisha Agarwal
18. Hemlata Kumari Gayari
19. Manvi Bhati
20. Ritika chittora
21. Krishna kanwar gahlot
22. Dr. Neeru Rathore
23. Dr. Renu Rathore
24. Pratiksha yadav
25. Thawari meena
26. Shubhwala Radhaswami
27. Smt.Champa damor
28. Mumal Chauhan
29. Riya Ravindra Kamble (6 yrs.)
30. Seema yadav
31. Mansee Chauhan
32. Neha kanwar
33. ankita sonawa
34. MAHIMA SARUPRIA
35. Chhavi Singh Rao
36. SHARA QUAZI
37. Sempai RajNandini Menaria
38. BHUMIKA VASITA
39. Khushbu dhaked
40. prabhdeep kaur
41. Kanishka chouhan
42. Yukti Rathore
43. Dr.Kumud Intodia
44. Taruna chauhan
45. Maitreyee choubisa
46. Gaurvi singhvi
47. SHAURYA RANAWAT
48. Keerti rathore
49. Sakshi mehta
50. Yashishtha Batra
The award ceremony also had following power pact performances :
1. Self Defence Art Technique by Sensei Raj Academy Students and Raj Menaria
2. Rajasthani Music and Dance Performance by Sayari Roots Of Gypsy Performers
3. Gymnastic Performance by Rockwood School Students
The purpose of the event was to give appreciation to women in the city who have excelled and encourage other women to do better and bigger. 250 guests attended the function and more than 90 people participated in the function on stage. Also, the company launched it's not for profit initiative called EMPOWER ONE where one woman would help other women with a dedicated attention and would make her life better in all ways. The event also got covered by all leading media houses.
Apart from this, women organizations and social institutes for women carried out a rally in favor of women empowerment. Vidhya Bhawan Polytechnic, MPUT, and Rotary Meera also organized programmes on the occasion of women's day. Law College, Hindustan Scouts, and Guides, RNT Medical College, LIC of India, Rotary Uday and a lot of other institutes celebrated the day by honoring women.
Lady patrol team was felicitated on this day in Oriental palace resorts. A painting exhibition was held in which female artists from Kanchan Art Gallery depicted various sides of a woman. The exhibition was inaugurated by RPS Ranu Sharma in Bagore ki Haveli.
RTO department carried out a road safety workshop on women's day in Town Hall campus. Road safety rules and importance of helmet was shown by means of the stage play and a puppet show. Life insurance was done for around 450 people where wives were made beneficiaries.