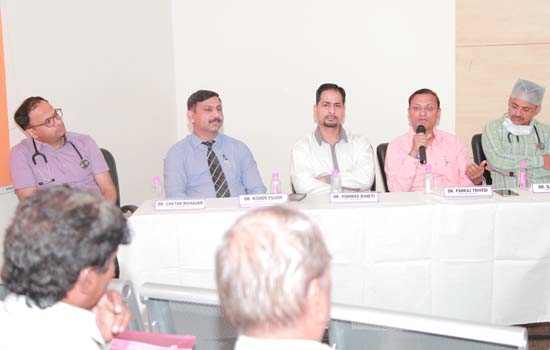 "Standard of care" means the best treatments known. When making treatment plan decisions, patients are encouraged to consider clinical trials as an option. Similar cases of two patients; a male of 68 years and a female of 45 years was diagnosed with a cancer tumor in kidney were treated successfully by Geetanjali Medical College & Hospital's Urologist Dr. Pankaj Trivedi. Only the tumor of cancer was removed from the kidney & more than 60% of the kidney was being saved. A partial Nephrectomy was performed by the team of surgeons including Urologist Dr. Vishwas Baheti, Anesthetists Dr. Uday Pratap, OT Staff Pushkar, Avinash, Jayprakash & Praveen. This type of surgery preserves kidney function and lowers the risk of developing chronic kidney disease after surgery.
Udaipur resident, Jamna Lal (Age 68 years) was suffering from bleeding in urine, high blood pressure & breathlessness. Bhala Bai (Age 45 years) had undergone a sonography which confirmed the presence of tumor in the kidney. On a routine consultation & CT, Scan investigations confirmed the diagnosis of a tumor measuring 5.2 centimeters in right kidney of the male & 4.5 centimeters in the female. Later in the detailed study, it was diagnosed as cancer tumor. On his visit to every other doctor of hospitals, he was recommended a radical nephrectomy, which means a surgery to remove the tumor, the entire kidney, and surrounding tissues. On a visit to Geetanjali Hospital & consultation from Dr. Pankaj Trivedi, he decided to perform partial nephrectomy & save the kidney to its utmost.
Dr. Pankaj Trivedi said that "Since the tumor was situated in the mid of kidney close to the pelvicalyceal system. The surgery so performed included the blockage of renal arteries (the main artery) to stop bleeding. These arteries cannot be blocked for more than 30 minutes as it may lead to complete renal failure. The tumor & a margin of 1 centimeter with the tumor, the tissues were removed thereby saving more than 60% of the kidney. Since the tumor was also close to the pelvicalyceal system (urine-collecting structures in the kidneys) so it was cut & repaired. The tumor & surrounding tissues so removed from the kidney were need to be replaced by jel form & surgi cells within the same time frame of 30 minutes. Repair of the pelvicalyceal system was also required as the urine may start leaking from the kidney itself. "
Medical Guidelines of 2015 also states that cancers kidneys should be treated with partial mephrectomy. Kidneys should be saved to their maximum, only if 40 to 50% of a kidney can be saved then also kidney saving should be a priority, quoted Dr. Trivedi. But still a practice of radical nephrectomy is in practice for more than 80% patients of cancer in kidneys.
This type of surgery preserves kidney function and lowers the risk of developing chronic kidney disease after surgery. Research has shown that partial nephrectomy is as effective for T1 tumors whenever technically possible. Newer approaches that use a smaller surgical incision, or cut, are associated with fewer side effects and a faster recovery. Also a medical research shows that a person with one kidney is prone to many diseases in near future. High blood pressure, prostate, diabetes etc. also affects the functioning of kidney after an age leading to possibilities of person surviving on dialysis. Keeping these mind kidney saving is a priority.
यह खबर निम्न श्रेणियों पर भी है:
Udaipur News