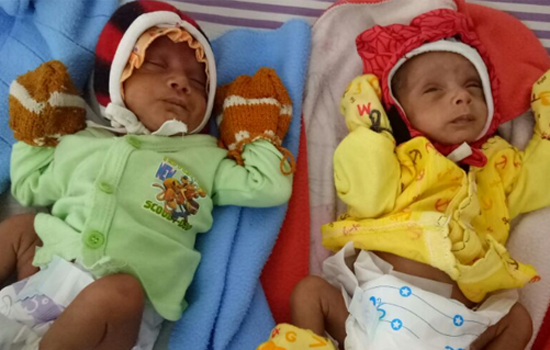 Born weighing 600 grams and 620 grams, the Chinta Devi twin girls tale of survival is an extraordinary one. The micro-preemie, who was born prematurely at just 24 weeks of gestation [ Five and half months] and, fought for four months to survive a stormy course in the neonatal ICU of Jivanta Children's Hospital, Udaipur are among the smallest twins ever survived in India.
Born to couple Chinta Devi and Chandeshwar Ram from Motihari, Bihar married for 21 years and conceived after IVF technique at Neelkanth Fertility Centre, Udaipur. "She had uncontrolled blood pressure, gestational diabetes and started bleeding at 24 weeks of her pregnancy.As the survival of babies was getting compromised was taken up for the emergency cesarean section"- said Dr. Simi Sood. Twin girl babies were born weighing just 600 grams and 620gms at birth on 25th October 2017. These twins were barely larger than a human hand and were very precious and the only hope for the family They required artificial breathing support to regularize her breathing and then quickly transferred to Jivanta neonatal ICU.
These tiny twins were managed & looked after at Jivanta Neonatal ICU under the precise care of Neonatologist Dr. Sunil Janged, Dr. Nikhilesh Nain & trained nursing staff... Regular screening of heart & brain were performed to rule out any bleeding in the brain. Due to brain immaturity baby used to forget to breathe, we call it as apnea of prematurity. Babies required ventilatory support for 80 days and multiple blood transfusions.
In all he was in NICU for 115 days, on discharge, their weight was 2 Kg and 1.94kg. By far their progress in NICU is satisfactory, Brain is structurally normal, eyes are developing normally.
It was a long & tough journey for our team and only 5-10 % of such babies survive without brain damage. The existing record for smallest twins to survive in India is from Kerala - twin girls weighing 452 gm and 500 gm.– said Dr. Sunil Janged.
"All this would not have been possible without the support of Doctors and Jivanta management team. It was not possible for us to bear hospital expenses as we belong from the low-income family from Bihar. The hospital waived 50% of the treatment's cost to send a 'pro-girl tolerance' message to the society. We named them – Srishti and Drishti '- echoed the proud father, Chandeshwar Ram
यह खबर निम्न श्रेणियों पर भी है:
Udaipur News