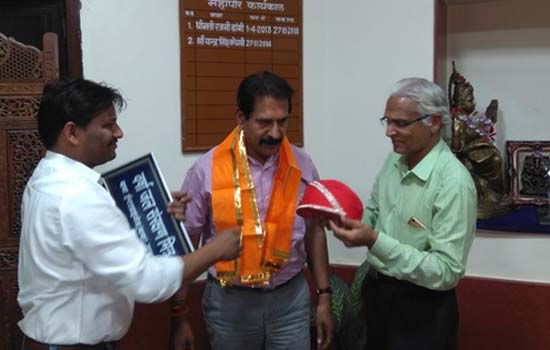 Efforts by Varsha Jal Sarakshan Mitra from last twenty years has now become true by the announcement by Udaipur Nagar for financial support for the land area up to 2700 sq.feet who gets this rooftop rainwater harvesting done .this is to motivate the persons to recharge the existing water sources in their houses & save the depleting underground water.
Various National & state award winner & engaged in awareness programs from last two decades Dr P.C.jain said that this step will go a long way for those who wish to recharge their well, Tube wells, Borewell, hand Pumps & beside raising the quantity of underground water it will also improve the quality of this water-saving many lives from water-borne diseases in future .
Mahapor Honoured
Dr. P.C.jain & Mahesh Gadwal who is actively engaged in installing the system honored Chairman Chandra Singh Kothari for this step by offering him Mewadi Pagdi & Prerna & giving a nameplate of " Varsha jal sarakshan Mitra " welcomed his decision.
Applauded
Uttrakhand Samiti, Udaipur, Bharat Vikash Parishad,"Subhash ", Anand Nagar Vikash Samiti, Gokul Nagar Vikash Samiti & many who have already installed this rooftop rainwater harvesting system have applauded the decision of the Nagar Nigam Mahapoor Chandra Singh Kothari.
यह खबर निम्न श्रेणियों पर भी है:
Udaipur News