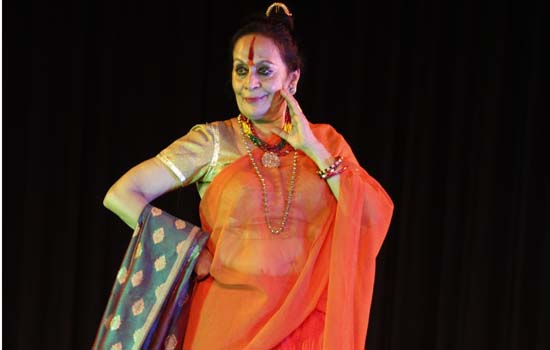 West Zone Cultural Centre, Udaipur organized its annual feature "Ritu Vasant" at Shilpgram on thematic decorated open-air theatre from March 9 to 11,2018 to celebrate Spring Festival with Classical music and dance concerts. The festival opened with the performance by disciples of Padma Vibhushan Dr. Sonal Mansingh; cultural educationist of International repute and Founder –President of Centre for Indian Classical Dances, New Delhi. The young students of her institution presented few thematic dance dramas and pure dances. The concert started with 'Holika Dahan' and 'Hirankashyap Vadh' in Chhau style. This was followed by group performances Kshirsagar Manthan, Bhasmasur Mohini and Kaliya vadh by Krishna.The performances were on recorded music.The concluding performance was traditional Dandia Raas of Gujarat. Few people were disappointed that Komal Ji herself did not perform but on assurance by Komal ji that she would come next time and perform for dance lovers of Udaipur audience welcomed her. The best thing was her illustrative explaining about each presentation. She talked to the audience as if she is discussing one to one. Her philosophy about Indian Dances and leading divine life was explained in very interesting manner. I cannot forget her words describing the "SWACHHATA" She related them with our own thoughts, we should have clean thoughts and if they are clean words uttered by us will be clean and finally, it would reflect our behavior which becomes automatically clean. True, such instructions if followed in true sense entire surroundings will become clean and pious.
On Saturday Shuchismita Das started her classical vocal concert with Raag Kaushiki Dhani in Madhya Taal. Her Bandish 'Aayori Sri Basant naval rang laayo' was very close to the theme of the festival. Her next presentation was in Raag Bahaar. She was applauded for the Thumri and Krishna Bhajan. Ajay Joglekar on Harmonium, Shambhu Maharaj on Tabla and Dilshad Khan on Sarangi accompanied her.
Anupama Bhagwat presented Raag Bihag on Sunday evening. She further rendered Raag Bahaar and concluded her concert with popular Holi Dhun ' Meri saari'. She was appropriately accompanied on Tabla by well-known tabla player Ojas Adhiya who made her concert very effective.
The three day Ritu Vasant was concluded by the Kathak recital by Harish Gangani and his group. Group started first presentation Shivstuti composed in Raag Bhatiyar. Harish Gangani presented pure Katha with That, Aamad, and Paran showcasing all details in finery. Krishna Raas presented by the group had innovative compositions. Famous Thumri of Pandit Chhannulal Mishra" Rang daring, daring rang" presented by the group described various aspects of Abhinaya. Sanjeet Gangani, Parul Dutta, Nandini Khandelwal, Aarti Tripathi and Akshita Dadheech accompanied in Kathak while Harihar Sharan Bhatt on Sitar, Mahendra Songara on Saarangi and Yogesh Gangani on Tabla made the performance very interesting. Moh. Furqan Khan, Director of WZCC honored artists. The festival was anchored by Mohita Dixit Joshi.
यह खबर निम्न श्रेणियों पर भी है:
Udaipur News