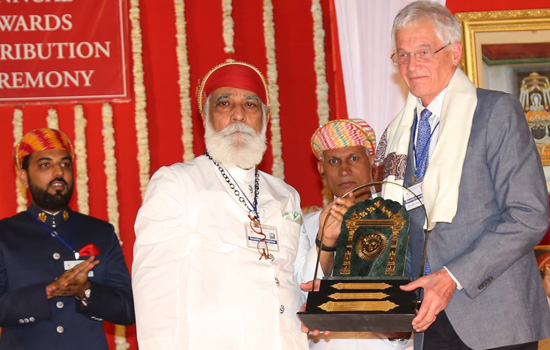 (Arushi Vyas)The land of gallantry and sacrifice: Mewar has been a podium for such events which connect the dots of incredible present with unwavering history.
With the rising moon on the evening of 11th March at Manek Chowk between the walls of enormous City Palace, Udaipur witnessed 36th Maharana Mewar Foundation Annual Awards Ceremony. By piloting the resilient legacy of the palace and its protocols, 76th custodian of Mewar Shriji Arvind Singh Mewar of Udaipur, Chairman and Managing Trustee, MMCF, ushered another evening to honour and recognize personages from fields like art, culture, sports, literature, academics, etc. Shriji Arvind Singhji added, "Foundation seeks utmost gratification in keeping the light of faith illuminated by honouring and recognizing the efforts and life of laudable people of this world."
On the propitious occasion of the 36th edition of annual award ceremony, event started with niceties on the International Award named after Colonel James Tod, to pay tribute to the work of a foreign national who has made an enduring contribution through his exceptional work keeping in line with the values and dignity of the region of Mewar. Prof. John Stratton Hawley, Columbia University bagged the International award this year. In line, Ms. Suhasini Haidar, Editor, The Hindu received the Haldighati Award for her notable work in awakening society through the medium of journalism for more than two decades.
Under the lustrous light of Palace standing robustly, Pandit Shree Narendra Mishra, official spokesperson – MMCF, filled the air with his heroic poems of courage, valor, and sacrifice witnessed by the land of Panna, Padmini and Pratap.
Hakim Khan Sur Award devised to honor the work of permanent value for the cause of national integration was awarded to Dr. E. Sreedharan. In a particular order, Maharana Udai Singh award was presented to Mr. Gafarbhai Qureshi; Panna Dhai Award to Mr. Salim Gafur Sheikh and Mr. Harsh Desai; Maharishi Harit Rashi Award to Dr. Sandeep Joshi and Pandit (Dr.) Chandrakant Purohit (Munshi); Maharana Mewar Award to Ms. Raspreet Sidhu, Prof. Satyavrat Shastri and Mr. Abid Surti; Maharana Kumbha Award to Mr. Dev Kishan Rajpurohit; Maharana Sajjan Singh Award to Mr. Abhishek Joshi; Dagar Gharana Award to Shree Prashant Mallick and Shree Nishant Mallick; Rana Punja Award to Ms. Vardi Bai; Aravali Award to Mr. Himanshu Lamba and Mr. Mihir Soni; and Maharana Mewar Special Award Best Police Station of Rajasthan to Police Station Makbara, Kota.
Around 116 students were awarded Bhamashah Award, Maharana Raj Singh Award and Maharana Fateh Singh Award for their remarkable achievements in academics, sports, and other allied fields.
Two young brothers Mr. Vivek and Yogesh from Neemrana, district Alwar received special mention and attention for creating an Aeroplane from wastage while being just in the 9th and 6th standard. India also created history after NASA launched the world's smallest satellite, 64 grams, named as Kalamsat, after former President APJ Abdul Kalam. It is built by 18-year old Tamil Nadu student Mr. Rifath Sharook and his Team. Both teams were recognized with Maharana Fateh Singh Award.
Guest of Honour, Rashtrakavi Shri Balkavi Bairagi enlightened the audience with his ardent words. Vote of Thanks was read by Mr. Lakshyaraj Singh Mewar of Udaipur, Trustee MMCF and event was hosted by Mr. Gopal Soni and Ms. Rupa Chakravarty.
यह खबर निम्न श्रेणियों पर भी है:
Udaipur News