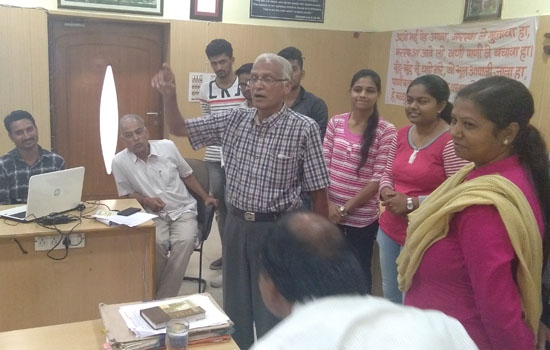 Udaipur: Suggestions from indo Australia in National work shop on Ground water Recharge, Ahmedabad for ground water sustainability ( 30-31May 17.)
1.No wall to wall construction of roads so that UG recharge continue during every rain.
2. All foot paths be left for ug recharge ,no cementing be done on it.footh with slope towards road.
3.Proper Road Drain holes ,net ,apertures be there so no water logging take place and no erosion of road takes place.
4. All pipes of RWh be concealed with cementing so that no body can break them as well as no whether effect will be there ,thus enhance the lIfe of system.
5. Another opening over the existing opening should be there or leave alternate out let as they will work as safety outlet during heavy intensity of rain.
6. No dug well or Borwell be allowed without recharge system installed..
7. Plants which uses large amounts of ug water should be banned,eucalyptus.
8. Plants whose roots retains water like,tamarind,semal,shishan,neem should be planted around water sources so that at the time need like summer they release this stored water.
9. Increase the surface water by increasing the deepth and area of the source so that ug water is maintained.
10. Concept of ug water bank nd water insurance ,save water,how to save Roof roop rain water should be taught to the students/contractors & involved in RWH.
11. City BJ bhujaon jankar is must.
12. Prestige of institution in RWH.
यह खबर निम्न श्रेणियों पर भी है:
Udaipur News