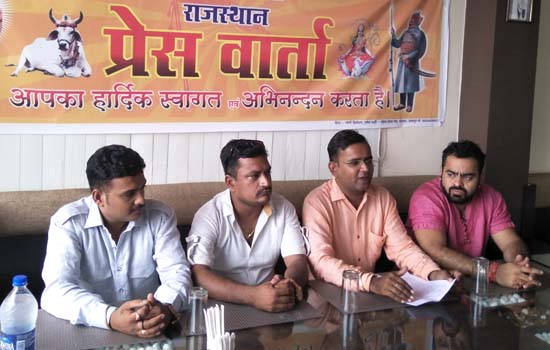 Udaipur: Under the organizational program annually by the National Brahmin Yuvajan Sabha, this year, on 14th June, 2017, the Vedic Brahma Sammelan and Brahma Pratibha Samman will be held in the auditorium of the State Fateh School, Udaipur.
In a press conference organized by the National Organization of the Council, Shri Chandrashekhar Joshi, on Sunday, in a press conference held on Sunday, said the Organization has organized such conferences in various states of India every year in order to keep the unbounded tradition of Sanatan Vedic culture.
This year also, this program is being organized in Uttar Pradesh, Himachal Pradesh, under the guidance of National President Ashutosh Pandey ,now in Rajasthan, the land of spirit and Spirituality is going to be in Udaipur.
In the transitional situation of the present, where the disintegration forces are striking at national integrity and social harmony, in such a situation, the organization with a sacred purpose to force the spirit of social awakening and unity and harmony efforts.
Joshi explained that during the Vedic Brahma Sammelan by National President Ashutosh Pandey, will clear the stand on various issues including Gau Raksha, Ved Prakashan, Ram Janmabhoomi, Parashuram Jayanti Holidays, Adi Shankaracharya Board in Rajasthan, Parasuram University, statue of Deities and GST on worship material. Gumama Addressing the press conference, State President Akshay Joshi said that the conference will start with the chanting of Gayatri's Aarti, Ved Pathi Purohit Ved Mantra. The first session will be the main guidance of National President Ashutosh Pandey in which he will also give lectures on the roles of the organization, including the various organizational issues, including events falling in the current national scene. In the program, the functionaries and members of Vedanta Girish Joshi, renowned social activist and Brahma Sutra thinker T. R. Joshi, Dinesh Bhatt, Dr. Jindendra Shastri and various Mandalis will be present.
Naresh Sharma, District President of the organization said that in the second session, the Brahmin talent scoring more than 80% marks the Class X of Rajasthan and Central Board of Education will be honored.
National President will come on February 13 -
Naresh Sharma said that Ashutosh Pandey, National President of National Brahmin Yuvjan Sabha will reach Udaipur on June 13 to attend the conference.
On his arrival warm wel come will be given officials and worker at various places.
यह खबर निम्न श्रेणियों पर भी है:
Udaipur News