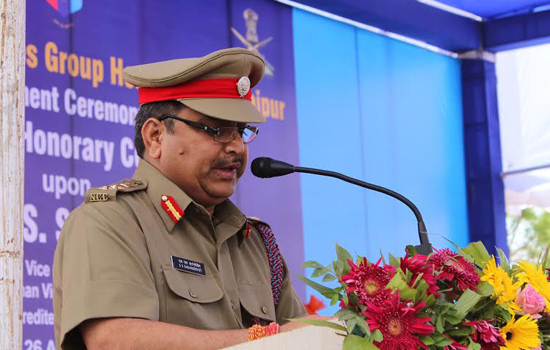 It was a great historic occasion and matter of rejoicing for all the members of the entire family of Janardan Rai Nagar Rajashan Vidyapeeth Deemed University when Prof. S. S. Sarangdevot, Vice Chancellor, a very able and worthy head of the institution, was honoured with honorary rank of Colonel by the Ministry of Defense of the India.
This magnificent honour was conferred on him for his exemplary dedication, extra-ordinary contribution and tireless efforts to achieve excellence in Higher Education, research, motivation of youth and NCC Cadets. A big and befitting program was organized to felicitate him in the main campus of the University on 26th April 2017. He is the first individual from the Udaipur district to receive this honour.
The program began with a guard of honor given by the NCC cadets to Dy DG NCC Dte. Rajasthan, Air Commodore Radhakrishnan Shankar. Prof. Mukta Sharma, Registrar of Janardan Rai Nagar Rajasthan Vidyapeeth Deemed University welcomed a large gathering of distinguished guests, eminent scholars, citizens and dignitaries from different works of life from Udaipur. She has also briefly introduced the distinguished defense personnel Air Commodore Radhakrishnan Shankar, Colonel Jai Prakash Singh and Colonel Prof. S.S. Sarangdevot, who had graced the occasion by their presence.
The welcome speech was followed by the conferment of the rank of Colonel on Prof. S.S. Sarangdevot by Air Commodore Radhakrishnan Shankar and Colonel Jai Prakash Singh had pipped to the post as Colonel along with Ashok Stambh Star, Collar Daf, and a Certificate to Prof. S.S. Sarangdevot.
Soon after the above conferment, a warm Guard of Honour was given to Colonel Prof. S.S. Sarangdevot by NCC Cadets.
In his motivational speech, Air Commodore Radhakrishnan Shankar observed that the rank of honorary colonel is conferred upon very able and dynamic academicians in recognition of their outstanding services to the nation not only in the field of education but also for promoting and motivating students of the University for joining the NCC. The ministry of defense thus collaborates with educational institutions in recognizing such services by honouring them. He has praised the work being done by the Rajasthan vidhapeeth University for community education, rural and deprived section of the society.
Colonel Prof. S.S. Sarangdevot thereafter made a very impressive speech expressing his gratitude to the ministry of defense, Government of India for the conferment of the rank of colonel on him.
He further said that NCC is a very vibrant organization channelizing the power and energy of the young cadets and making them worthy and responsible citizens of the country. He recalled the deep impact NCC had made on his personality as a young NCC cadet right from school days. It inspired him to successfully complete 'C' certificate and imbibe the values of nationalism, patriotism, selfless services to millions of his countrymen. It made a very lasting impression on his young mind and sensibilities and made him strive to achieve excellence in his own academic pursuits. He said that he had cherished a long desire and dream of being honoured some day in his life of being awarded the rank of a honorary colonel and the dream has become a reality today.
Prof. Sarangdevot has told that in the present time there is a lack of nationalism. To fulfill this gap, teachers should come forward to develop the environment of nationalism, brotherhood and compassion, so that morale of our soldiers could achieve more heights. Prof. Sarangdevot advised young generation to see big dreams and never get tired to achieve the best. He has also announced that his University is starting course in defense education from next session.
After this speech, the Hon'ble Chancellor of Rajasthan Vidyapeeth Shri H.C. Parakh honored Army officers with mementoes. Thereafter the NCC song was played on a large LED screen.
The programme concluded with singing of the National Anthem. A high tea was organized for all members of the audience and VIPs.
This ceremony was attended among others who were present in the occasion a few names need special mention: Lieutenant Colonel Emblem Hammal, Founder Vice Chancellor of Central University of Haryana, Former Vice Chairman of UGC and Member Law Commission Prof. Mool Chand Sharma, Janardan Rai Nagar Rajasthan Vidyapeeth Kul Adhyaksh Prof. Devendra Jauhar, Former Vice Chancellor of Janardan Rai Nagar Rajasthan Vidyapeeth Prof. Lokesh Bhatt, Janardan Rai Nagar Rajasthan Vidyapeeth B.L. Gujjar, Brig. S.S. Patil, Col. Manohar Singh Rathore, Prof. M.S. Agriya (President, Bhopal Nobles University), Dr. Geeta Patel, Shri Bhim Singh, Shri Yashwant Singh, Shri Gajendra Singh Shekhawat (Formar MLA) Shri Mahipal Singh Roopnagar, Shri Mohabbat Singh Rathore (M.D., Bhupal Nobles, Udaipur), Shri Lal Singh Jhala, Shri Dalpat Singh Surana, Prof. Eklingh Singh Jhala, Shri Jitendra Anchaliya, Mahendra Singh Shekhawat, Pramod Samar, Dr. N.N. Singh Rathore, Prof. N.N. Jani, Captain Anita Rathore, Lieutenant Dr. Yuvraj Singh Rathore, Captain Ram Chandra, Prof. K.S. Gupta, Dr. Rajshekhar Vyas, Deans and Directors of the University along with distinguished citizens of the University were present.