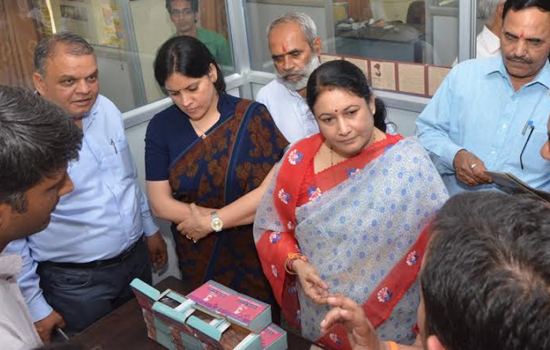 Udaipur: The inauguration of the Women's Hostel, Technology Business Incubation Center, was jointly done by Mrs. Kiran Maheshwari High and Technical Education Minister, Rajasthan. Mr. Phool Singh Meena, MLA, in presence of Vice-Chancellor Professor Uma Shankar Sharma.
Mrs. Kiran Maheshwari expressed full confidence that this skill development and start-up program would prove to be a milestone in the direction of self employment. She said that the girl hostel facilities will give girls the opportunity to come forward in technical education.
On the basis of innovative ideas of the students, the country will retain its position as a world leader.
Distinguished guest Honor Mr. Phool singh Meena, MLA congratulated the University for providing facilities to youth, the high level facilities would be a boon for agricultural education and technical transfer and skill development of the youth. He advised the students to work hard and to work hard to achieve their goals and also assured his help in establishing the statue of Swami Vivekananda in the university campus.
Professor Umashankar Sharma, said that the establishment of Technology Business Inquiry Center for Udaipur division is a program of Technical Education Department, Rajasthan, under which the candidates and entrepreneurs will be selected. Afterwords the selected candidates can further develop their own business. can begin. A centralized website has een started. He said that there is an urgent need for a separate auditorium in the university which can be constructed in collaboration with the state government.
He said that according to the budget announcement of the State Government in the year 2015-16, 7 Technology Business Incubation Centers are to be set up in the state, in which CTAE, MPUAT has the distinction of introducing the first center.
Dr. S.M Mathur, Coordinator of Technology Business Inquiry Center said that the center has started its work and currently 8 technicians are being provided to render services to the innovators.
Resident Officer Dr Ravi Sharma said that the girl hostel has been constructed under the 12th Five Year Plan of Technical Education for the state planning of the state government, in which 75 rooms have been constructed which owes total cost of 3 crores. In this newly built hostel, with the facility of accommodation of 150 girls, 325 girls in girl hostels can live in CTAE.
In function , all the Directors, Deans, Heads of Departments, Registrar Priyanka Jodhavat, Professor, Distinguished Citizens, Staff and College Students were present.