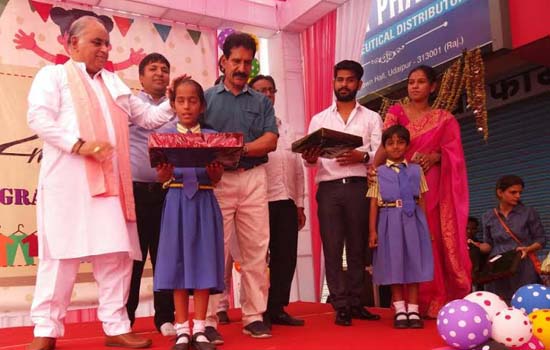 Udaipur: The first store of Party wear and Celebration Kidswear "Muffins" was inaugurated today On this occasion, a fashion show was organized for the orphan children, in which little boys and girls entertained everyone by walking on the ramp.
Navin Navbhanani, partner of the company told that the market of Indian Kids wear runs on the basis of choice and 90% of the children wears in India are ready in unorganized sectors.
There is a market of Kids Wear of about 95 thousand crore rupees in the country.
Clothing is produced by the company in accordance with the choice of children. This is the first store in the city which will be expanded by opening more stores in other cities in the near future.
Rohit Bilochi, another partner, said that the clothing of children ranging from 0 to 14 years is available on this store. Before this, Mayor Chandra Singh Kothari distributed clothes to the children on behalf of Muffin's saying that it is very rare to see that a showroom is also organizing charity work, on the occasion of its inauguration. He provided new clothes to the under age 15 orphaned in children of Muffins. After wearing clothes smiles spread on the faces of children.
Initially, young boys and girls participated deferentious cat walk on the ramp. In the work, a young boy surprised everyone by dancing.
यह खबर निम्न श्रेणियों पर भी है:
Headlines today News
,
Udaipur News