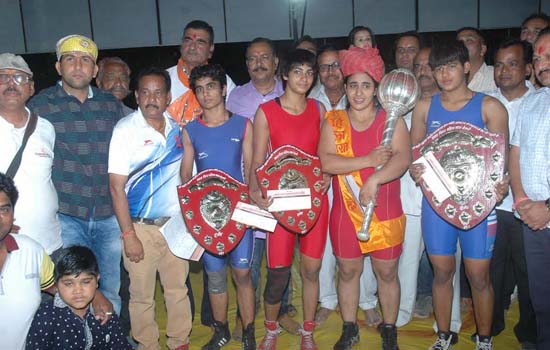 Udaipur: Shri Chatur bhuj Hanuman Rashtriya Vyayam Shala, organized by Dangal Samiti the first Virat girl, Bharat Kesari, fifth Purush RajSathan Kesari, Mewar Kesari, Mewar Kumar and Udaipur women and men in Kishore Kesari contest organized in memory of Ustad Nathu lal Sen.
Nikki sweated in defeating Priyanka of her rival Bhiwani and she won the title on the basis of figures. Nikki was honored with the silver burj , Shield, cash and turban
Rohtak's Anu stood at the third place while Rohtak's Shafali remained fourth place in the position.
Azaruddin Dhola of Alwar won the title of Rajasthan Kesari by defeating Aditya Gurjar of Bhilwara. Abhishek Gurjar of Bhilwada at third place and Ashok of Bharatpur stood the fourth place.
For title of the Mewar Kesari Competition, Ashish Joshi of Bhilwara defeated Abhishek Gurjar of Bhilwara. Third place, Kushvindra Goswami of Bhilwara and Dharmaraj Gadari of the town of Bhilwara in the fourth place.
The organizer of the competition Rajendra Sen said that 50 kg The title of Veer Kush Udaipur in the class, Lokesh Lohar won by defeating ManJat. Rakesh Sisodiya ranked third place and Vishal on the fourth place.
Apart from this, Karan won the title of Udaipur Veer Bal Kesari, defeating Kharta ram by winning..
Dr Girija Vyas, former Parliamentary Secretary Raghuveer Singh Meena, Gopal Sharma, District Congress Lal singh, Former MLA Trilok Purabia, Pankaj Sharma, INTUCC President Jagdishraj Shrimali, Madhusudan Sharma, K .K Sharma Manoj Mehta, Nathdwaras Dadu Ustad industrialist Mahendra Batia graced the prize distribution ceremony.