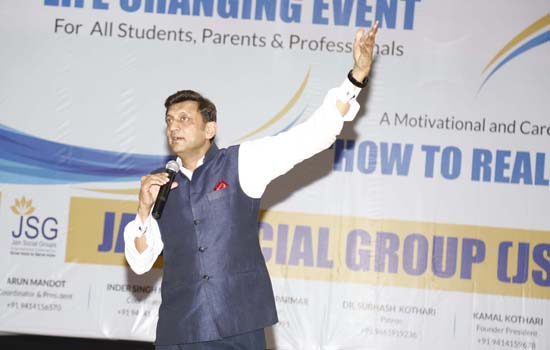 Seminars on How to Realize Your Dreams Ideas on career counseling for children concluded
Udaipur: life is not just for spending but for doing some work. Create your own thrill for this on the Canvas of your life, brush with your own hands and your own color. If you want to create a picture, have children, or do a lot of work. Put your own price here. Do not let the others get the chance to put your worth. Today Rado comes in one lakh rupees. So it is like all ordinary watches, but it has a thousand rupees and 99 thousand rupees in that name of the company Rado. You have to fulfill dreams The only thing to do is to decide whether to fulfill your own dreams or anyone else's. If you dream you will fulfill your dreams and become an entrepreneur. If you do a job, you will work here to the dreams of others.
These thoughts were conveyed by the National Motivational Speaker Indira Priyadarshini Award winner SP Bharill on Sunday in the Sukadia University Auditorium He spoke as a motivational speaker in the historic career counseling and meteorological seminar, on behalf of Jain Social Group Samata. Over one and a half thousand children, parents, youth participated in the seminar. Not only did the full auditorium was filled but many people stood still despite the installation of three hundred children by putting the LED out. He said that till the child is 18 years old, he only gets to listen to pessimistic things. This will not happen to you. You will not be able to do this. Someone said that, yes, you will do it. By 18 years of age, the child gets worse by the mother and can not be made by the father. That's why finds sympathy outside of the home environment. This is a very big reality of life.
SP Bharill said that we get out of the house to go to the railway station and take the ticket. we tell them name of the specific train. The destination of the journey is known but unfortunately we do not know the destination of our life. There is no such college that can tell how to be rich. How to become good servants, it teaches all things, we are taught in the house that the rich son is of richman and the poor son is poorman. The identity will be of those who dreamed, not the one who did the work. Dhirubhai Ambani dreamed that poorest of poor should have a mobile How was this possible, those who worked here made it possible? Nobody knows whoever did this work, but the Ambani saw this dream and today the words are shone on the screen.
Do not think about it will work or not just how it will work Think. Thousands of people are able to work but they have no answer to prove why they worked should. He said that the dog pursued a rabbit to fulfill his hunger. Both fast ran and the reached the good first. Both talked together. The dog said that both of us ran fast but why I could not catch you. The rabbit responded that you were running for your hunger and I was running here for life. That's the difference. The winner of the race wins because he has a big dream then the looser. No need to get knowledge for any work. If the dream is not complete then do not leave the dream, but change its ways. Muhammad Gauri attacked Prithviraj Chauhan 17 times and was defeated but Prithviraj Chauhan said that for the 18th time, also I will be defeating you, but such thing did not happen. Gauri won finally because he tried it again and again. If you lose, you come back. As a looser only. Like Gauri, we should all like to try once more. He tried 17 times.
Earlier, Arhot Raj, Director of AltHR, Ahmedabad, told about career counseling he said that in today's era, 70 to 80 percent of Employees are not fit according to their profiles. Have chosen a career but can not move forward. If you do not work in your career, you will not be able to prolong. Do the things in which you are good, not just average. Focus if there is planning. Continuous learning is very important to survive in the future. If you do not learn and do not go with the age then you will be out soon. Become a Guardian Children's Support System. Advise them well-bothered, but do not become obstacles in their career path. Only one who has a stress-free life will have a carrier. Interest, activity and planning, if these three are not in your life then nothing can happen. There is also a significant role of location in the carrier.
Doing BE in IT and finding job in Ahmedabad, will not help you achieve. You have to go to Bangalore, Pune. Career counselor and corporate trainer Himanshu Paliwal told through Power Point presentation that what is a career. Avoid all tension. No mater in what profession you are. There are more than 10 thousand professions in today's era. Taking the science does not mean just being an engineer or a doctor. Many things are ahead of it. The biggest drawback of today's youth is that there is no future plan. Just follow the crowd. Do not get motivation. Focus is not there. Leaving the quality is focusing on the quantity. Discover yourself, discuss with the Parents, and Friends but consider and take your decision. Practice, work with determination with constant concentration, success is sure no doubt.
As the Chief Guest, Home Minister Gulabchand Kataria said that I have been a teacher and therefore understand the importance of education. In today's era, there is the need for changes in the field, then it will be good for more education.
As a special guest, Mayor Chandrasingh Kothari, Rural MLA Phool singh Meena, Chittorgarh Superintendent of Police Prasanna Khamsera were present. On behalf of JSG Samata, guests were felicitated with favored souvenirs. Organizer and seminar convener Arun Mandot said in his welcome address that school children receive education about the future from the very beginning. In this context, it is our effort to help than JSG Samata said that we are committed to further such events.