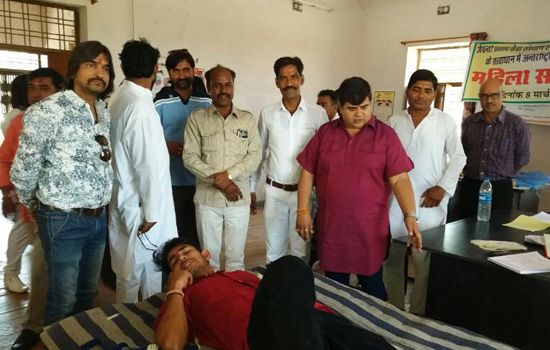 Udaipur: 64 Bajrangi donated 64 units of blood at concluding day of the 9-day Hanuman jayanti celebration under the auspices of Bajrang Sena Mewar and Lok Mitra Blood Bank
Karnavir Singh Rathod informed that the chief guest of the function was Dr. Pradeep Kumawat, founder, Kamleendra Singh Panwar was also graced. On this occasion, activists including Bhanwar Patel, Abhishek Menaria, Pratap Singh Bassee, Mahendra Singh Jagat, Ramesh Singh, Hiralal Patel, Balidan Singh, Shiv Singh Solanki donated blood.
Medical Camp- Free Medical Camp was conducted by Bajrang Sena Mewad in which free treatment was given by examining blood pressure, seasonal disease, skin related diseases.
यह खबर निम्न श्रेणियों पर भी है:
Udaipur News