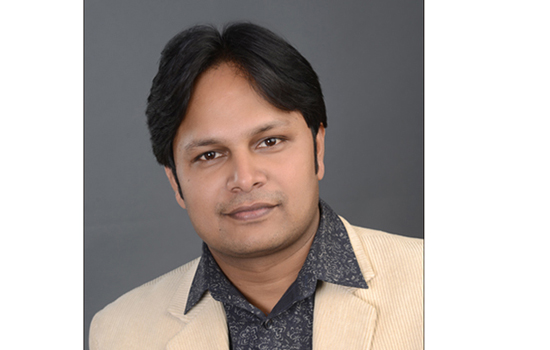 Impelled by his passion to serve others through his deep knowledge and rich experience of physiotherapy, Kalpesh Purbia has become popular among his patients in a very short time. He is at present Clinical Physiotherapist, Pacific Medical College, Udaipur. A native of Kunhadi, Kota, he was born and brought up there. He completed his early education from Central Academy, Kota and passed his Senior Secondary with science biology. His father, an engineer in Irrigation Deptt., wanted him to do MBBS or BDS but due to financial constrains, he finally opted for physiotherapy. Purbia did his Bachelor of Physiotherapy from Shri Krishna College of Physiotherapy, Udaipur that was affiliated to Sikkim Manipal University in 2007 securing 65% marks. Then he earned his 2-year Masters in Neurology from Rajasthan Vidyapeeth College of Physiotherapy, Dabok, Udaipur (2009-10). As part of his clinical training for short periods, he worked in multispeciality Deptt. of Physiotherapy, Bombay Hospital, Indore and Choithram College of Paramedical Sciences, Indore. For two years, he was an honorary physiotherapist in Narayan Sewa Sansthan, Udaipur when he was a student. He also worked as Physiotherapist in Sudha Hospital, (Kota Heart Institute) of Physiotherapy, Kota. He has one-year experience as a gym physio and fitness trainer in Gold Gym and one-year experience as an aerobics trainer in Kota Gym. Purbia has also worked as a physiotherapist in Rajasthan Cricket Association during under 19 tournament at Rajsamand and Colvin Shield at Jodhpur.
Purbia has certification from Manual Therapy Foundation of India. He did his level one and two certificate courses in manual therapy under Dr. Umashankar Mohanti. He has also completed a certified Osteopathand Chiropractiioner course.
Purbia has offered his free services in organizing several camps for societies such as Suwalka Samaj, Purbia Samaj, Nagar Nigam, Udaipur, Ayurved Deptt., Indian Red Cross Society, Seva Bharati Hospital, Vigyan Samiti, Mahaveer International, Anuvrat Samiti, Jain Social Group, Aakash Vagrecha Charitable Trust and Akhil Bharatia Teerapanth Yuwak Parishad. Free fitness awareness programmes for employees of Maruti Suzuki Hyundai, and Ford Company are also being organized by him with the support and guidance of Lalit Singh Jhala, District Sports Officer, he is taking physio sessions in Khel Gaon, Udaipur to prevent and cure injuries of players and the teaching staff. He has been instrumental in setting up physiotherapy clinic in Adarsh Ayurved Aushadhalya, Sindhi Bazar with Vaidya Sobhalal Audhichya. For academic updation of the students of Pacific Medical College and others, Purbia has organized Osteopatic and chiropractice workshops.
Other workshops organized by him include those on Mckienzie Mechanical Diagnosis and Therapy on Muscle Energy Technique and Trigger Point Therapy, on Clinical Application of PNF techniques, on MFR, PNF and NDT and on combined approach to Treatment of Persons with Neurological impairment.
For two hours in the morning and two in the evening, he goes out and helps patients without charging anything. He is also a regional committee member of Indian Association of Physiotherapists.
For the benefit of people on the outskirts of Udaipur, Purbia has started physiotherapy OPD in Ranakpur, Sadri, where he gives his services every month. For his selfless service, Purbia was honoured at the district level on Independence Day 2015 by the state govt. He was honoured as the Best Eminent Physiotherapist in the International Conference of Physiotherapy by Higher Education, Minister, Kiran Maheshwari. Several institutions of the town including police officials have greatly appreciated his work. Purbia ran his own Spinal Physiotherapy Clinic in Madhuban for five years before joining Pacific Medical College, Udaipur as Clinical Physiotherapist in 2014. He specializes in Neuro rehabilitation, especially in cases where there is no recovery or slow recovery after stroke. Purbia is now working under Dr. Atulabh Vajpayee for Neuro Rehabilitation. He has been inspired by the commitment of Chairperson, Rahul Agarwal, Pacific Group of Institutions and the 'work is worship' attitude of Dr. Atulabh Vaijpayee. He says that eminent social worker Ganesh Dagalia has been his friend, philosopher and guide in the field of social service and he gets his able advice in this field. Purbia says that he owes a lot for what he is today to his parents.
He follows the advice of his parents not to depend on others and work with passion. Purbia believes that one should not be lazy and have perseverance. To be successful one has to put in ones best. He would like to be known as one who has devoted oneself fully to serve others with whatever expertise he has acquired over the years. No wonder his name has become synonymous with an excellent physiotherapist.
Purbia thinks that though Lake City has quite a few colleges of physiotherapy such as Rajasthan Vidyapeeth, Geetanjali Medical College and Hospital, Pacific Medical College and Maan Gayatri Hospital, and there is a large number of qualified persons yet looking to the fast increasing population, there are still good career opportunities in the field.
People are becoming aware of the usefulness of this therapy that is quite effective and inexpensive.
So much so that in quite a few cases, they go directly for this therapy even without consulting a doctor. Purbia's small family comprises wife Vidhi who is qualified in computer science and 4-year old son Manan. Purbia goes home to have lunch with them whenever he has time. On Sundays they go to Fatehsagar and Sukhadia Circle in the evening. Purbia likes old Bollywood film music and is himself a good singer. To relax himself, he also dances. His favourite food is Rajasthani. He is also a good cook. Lake City is a very charming place with its mesmerizing natural views, he feels.
He says that the people here are very simple and affectionate. Moreover, all kinds of facilities such as medical and educational are available in the town.
For the benefit of a larger number of people with physiotherapy, Purbia wishes to have a big space with state of the art equipment that can also be used for free medical camps on Sundays.
It is heartening to see that a young and devoted person like Purbia is making selfless efforts to make Lake City a better place to live in.
- Ashok Mathur