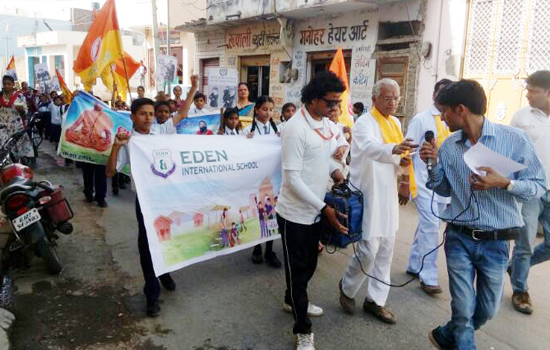 Udaipur: Organized under auspices of Patanjali Yog Peeth & Eden International school .Kanpur village a Rally on "Nasha Mukti ,( De- Addict the country ) Swach -Bharat ,Beti Bachao,flagged on by Dr P.C.Jain who is engaged in De addiction & Water harvesting awareness program since last two decades.
The children along with the teachers & Staff of Eden International School were carrying the name plates on "nasha Mukti " Yog -Bhagaye Rog",Beti -Bachao"Swach -Bharat "& pronouncing the slogans like "Nasha aik Bimari he -Jiska Ilaj sambhav hai ( Addiction is a treatable Disease ),Mobile se jyada pyar-karta jeevan Bekar'( If you are addicted to mobile it will damage in future " Beti -bachao-beti padhao ( Educate the girl child & save the girl child.) bharat ko swach banayange (We will clean the country ) Mohan singh shakwat the Patron of state addressed the rally.
Principal of Eden school Jyoti Dashora in the beginning of the rally welcomed Dr P.C.jain by offering him the Uperna .
On the the way in whole Kanpur they distributed phempelets on Save rain Water & De- Addiction prepared by Dr P.C.Jain .Anita Paliwal the district Yog Pracharika stressed the need for daily yoga .Baharat Menaria ,Kanhaiya lal Lohar,Giriraj Paliwal ,Sachin ,Pratap jain ,narakas all all from patanjali participated in the Rally.
यह खबर निम्न श्रेणियों पर भी है:
Udaipur News