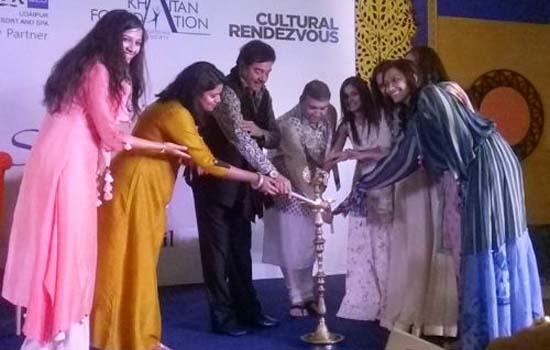 Udaipur: Prabha Khaitna Foundation, Hotel Radisson Blu palace and Cultural Rendezvous organized 'An evening with Shatrughan Sinha on 12th April.
Prabha Khaitan Foundation is a Kolkata-based non-governmental organization (NGO) engaged in various social welfare activities and promotion of Indian culture.
The foundation, through its activities and events, seeks to spread education and also raise its standard, promote Indian art, culture and literature, impower women by providing livelihood, spread awareness of global humanitarian and environmental issues.
Prabha Khaitan Foundation has initiated specific events in different cities of India to provide an interactive platform for authors, litterateurs and renowned personalities from different walks of life. These freewheeling interactive sessions bring the authors and their views to a selection audience many of whom are opining makers.
The events was in collaboration with cultural Rendezvous - a newly formed organization of prominent individuals of udaipur - swati agarwal, shubh shinghvi, mumal bhandari, riddhima doshi, sharddha murdia and kanika agarwal.
The hospitality partner will be hotel radission blu palace.
. In the Hotel Radisson Blu, when things went unnoticed-velvet, things went away. Everyone's favorite 'Viswanatha' and 'Chhenu' kept the heart of the heart open. Unselfish and silly aspects of his life-based book, 'Any thing But Khamosh', were exposed to the untimely aspects, he told the youths in the tones of the stories that keep a sense of becoming 'better than the best' and never give up. The enemy said, 'If Better cannot do the best', then 'Better than the rest', because 'the real battle of life is still there, the wait of my intentions remains. Right now, we have a handful of fats, we still have all the rest. This is my life journey saying that if it is decided, it is possible to make the impossible and to make the impossible poison able.
Because Ishq jumps from death and bowing down to death. So always keep your learning capability and orientation.
Shatrughan Sinha, in turn, spoke about the struggles of his life in a very simple way and said that a simple-looking 'babua' of Bihar's village can be named after the film institute of Poona and later on reaching Bollywood. It can also achieve a special place on the basis of determined intentions. Confidence is your capital. Rahul needs to learn more
He said that Rahul Gandhi needs to get mature in politics by learning more now. But I have not been in favor of sarcasm in politics.
Mom and yammy will not run
Shotgun said that on the face of the country's goumons, Shotgun said that 'Mummy and Yummy' cannot go together in the country.
We should always take care of people's feelings. He called Uttar Pradesh Chief Minister Yogi Adityanath as a dynamic leader. Who will become President? And will you become the Chief Minister of Bihar? Laughing on the question, he said, "Ask this question to politicians.
Politics should not be in the case of Kul bhushan
In Pakistan, the death sentence of Kul bhushan, the son of the country, was sentenced to death, BJP leader and film actor Shatrughan Sinha condemned it in stern words and expressed confidence that the government's efforts would bring this Lal of Maharashtra to the well-settled Varan again. Sinha said that the country's Home Minister and the Foreign Minister are doing their best and without doing any kind of politics in this matter, all possible efforts should be made to bring Kulbhushan to the settlement.
Shatrughan Sinha has falsely acclaimed CM Yogi Adityanath of Uttar Pradesh. Sinha said that the speed of Yogi Adityanath's work is a step towards making UP a good state.
Sinha said that the whole country is Modi and the whole of Uttar Pradesh has become a yogi at this time.
Describing Yogi as a scholar and justice choice, Yogi Adityanath became the chief minister of Uttar Pradesh as a privilege of the people of UP.
Ridshima Doshi welcomed the gathering, while swati Agarwal introduced Mr. Shatrughan sinha and Kanika Agarwal gave the vote the thanks.