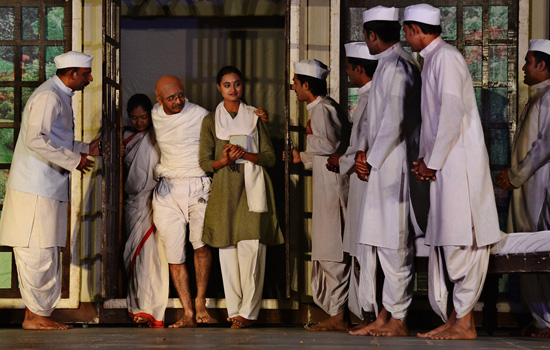 SHRIMAD RAJCHANDRA MISSION DHARMPUR presented an ultimate Drama Production,"Mahatma ke Mahatma" at Bhartiya Lok Kala Mandal, Udaipur on April 5 and 6, 2017. This play was studded with outstanding Creativity and Concern.
This unique drama has won three prestigious awards for Best of the Best Drama, Best Director and three awards for Best supporting actors. Last three months it has staged 200 house full shows. Thousands of people have seen this drama in 111 cities of India. Entire nation is commemorating 150th birth anniversary of great Indian saint, poet-philosopher luminary and honored as and spiritual guide of Mahatma Gandhi, 'Shrimad Rajchand'.
The concept of this Divine and Mega theatre has been given by the founder of 'Shrimad Rajchandra Mission Dharmapur' who is profound follower of Shrimadji. 'Pujya Gurudevshri' Rakeshbhai himself is world known divine personality has done Ph.D. on the best literary creation of Shrimadji "Shri Atmasiddhi Shastra". 'Shrimad Rajchandra Mission', Dharmpur is raising funds for building 200 bed Hospital at Dharmpur, District Valsad of south Gujarat through staging of this Drama. Staging of these two shows at Udaipur brought pleasant surprise to art and culture lovers of the Smart City.
"Yugpurush", the two act play started with an instance before the last prayer meeting (Prarthna Sabha) of Mahatma Gandhi at Delhi. Gandhi ji while spinning 'Charkha' recited Srimadji's poem 'Nirkhine Nav Yauvana'. Honoring sincere request of followers Gandhiji told them story of Shrimadji with enthusiasm.
Through flash back the significant instances of Shrimadji's life and his influence on Gandhi ji were enacted with high proficiency and technology engrossing each and every viewer.
Gandhiji met Shrimadji for the first time in Mumbai, upon his return from England as barrister in 1891.Shrimadji's inner equipoise, absorption in spiritual pursuits, enlightening wisdom, knowledge of the scriptures and moral earnestness left deep-rooted impression on Gandhiji. Their relationship blossomed over profound interactions in two years that Gandhiji spent in Mumbai.
Upon moving to South Africa, Gandhiji corresponded with Shrimadji through letters. Shrimadji's insightful thoughts ignited the fire of spiritual inquisitiveness in Gandhiji. Shrimadji's inherent adherence to the principles of Satya, Ahimsa and Dharma later crystallized as the fundamental tenets of Gandhism. Although Shrimadji left His mortal body at young age of 33 in 1901, Shrimadji's letters and compositions were Gandhiji's dear companions. He contemplated upon them time and time again. Gandhiji
would write about Shrimadji, speak about Him in his speeches and discuss Him with his close associates. He continued to be deeply inspired by his bond with Shrimadji, and his spiritual work.The force that influenced Gandhiji's ideas and guided his beliefs, the entity that contributed in the making of the Mahatma-Srhimad Rajchandraji is revered for His great spiritual state, extraordinary personality and literary genius by seekers across the world.
The drama was well conceived, designed and presented. The strong script by Uttam Guda played a pivotal role. Description of each instance was so well woven in dialogues that many a time audience gave instant response. Off course the actors did their best to live each and every character on stage. Their natural acting and timely dialogue delivery with perfect voice modulation made every scene significant. Entire drama was flawless and the element of inquisition was sustained till the end. Involvement of slight humor made this two hours drama very lively. Actors used hidden button mikes which helped them to concentrate more on acting. Henish Kharwad as Shrimadji almost stole the show, His tremendous memory, confidence and concerned acting made him outstanding actor. Darshan Mahajan and Indrajit Soni as Young and Senior Gandhiji were very effective and created required impact. Preeta Pandya and Gauri Vishwakarma handled all female characters show casing their multi talented acting. Other actors Bhavya Denisa,Rupesh Makwana, Yash Shah, Kunal Goswami, Twinkle Dave, Nimesh Mehta, Madhur Bhavsar, and Vismay Shah also contributed their share of good acting. Production Director Nilesh Patel did his job well.This Mega drama was skillfully and creatively directed by Rajesh Joshi.Rajsh Joshi's tireless efforts were visualized. Handling such a mega production is not an easy game. He kept every spectator engaged till the end. Music by Sachin & Jigar made this production memorable. Ravi Shaladiya operated music with perfection. Set Design and settings were efficiently handled by Subhash Ashar and Praveen Bhosle.
Not only the elaborate and sufficing set is praiseworthy but the young team also deserves appreciation who handled set within stipulated time.These were Brijesh,Amit, Dinesh , Jameel,Shokat Khan and Rashid Shekh. Make up by Jitendra Shinde and Bhushan Dutta, Costume by Dinesh and Raju Sharma did their respective jobs well. Light Design and operation by Bhoutesh Vyas,Rishi, Praveen and Kapil Jadhav is also worth appreciating. The back stage work was handled by the volunteers of the Mission.
Inspiration by Pujya Gurudevshri and team work made this production an extraordinary theatrical production with noble cause. Father of the Nation Gandhiji rightly said about Shrimadji-"I have often declared that I have learnt, and learnt much, from the lives of many persons. But it is from Kavishri (Shrimadji's) life that I have learnt the most. It was from His life that I understood the way of compassion" and "The more I consider His life and writings, the more I consider Him to have been the Best Indian of His Times".Udaipur was lucky to have this Mega drama and those who have witnessed this play will never forget the teachings of Shrimadji and Gandhiji in their life.