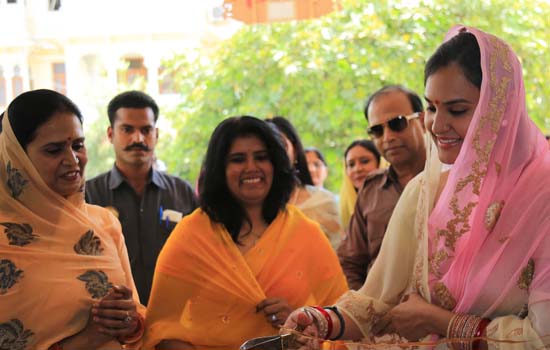 Udaipur: Mangalmayee, a 106 year old legacy and connoisseurs in creating Rajasthani traditional wear along with Jaipur Pink is hosted to exhibit at ShambhuNiwas was really impressive.
Shambhu Niwas is the beauteous abode of Mrs. Jaya Shaktawat, situated in one of the opulent colonies of Udaipur and done up very tastefully from Sabyasachi wallpapers to silver furniture on the inside.
The showcase will be a three day affair, inaugurated byMaharaj Kunwarani Sahiba Nivritti Kumari Ji Mewarof Udaipur and finishes on seventh with positive mode Mangalmayee, displayed latest collection of intricately handcrafted poshaks on tissue fabrics and new collection of sarees from the handlooms of Benaras.
Adding to which there will be Mangalmayee's specialty of hand dyed chiffon sarees as well as poshaks in silks and brocades embellished with detailed needlework of zardozi, aari, gotapatti and danka.
Jaya Shaktawat, owner of JagatNiwas Palace and the host. Informed that
"They are masters at not only preserving really old pieces of art that go on apparel but also they have people with the finest skills who use the traditional ways and designs to make products and that quality is something that you don't find in today's times."- in a press meet while shareing the views adds "It was an honour and privilege to design and craft the wedding Poshak worn by MaharajSahibaNivrittiKumari Singh of Mewar at her wedding, crafted in specially designed danka embroidered delicately and it took almost 6 months to complete it , Jaipur Pink brought forward varied range of stoles and clothing line in Mughal prints, Ajrakh as well as hand woven Bengal cotton to delicate home linens in prints with embroidered cushions.
Mangalmayee, established in 1911, has been catering to the royalties with their finest selection of beautiful sarees and poshaks for centuries now. The present owner and 4th generation of the founder, Sandeep Burad has restored some stunning heirlooms for the royal families of Jaipur, Udaipur, Jodhpur, Patiala and many more with their special revival technique using transfer work.
Jaipur Pink by SunitaBurad, is a designer souvenir store with a range of exclusive customized artifacts, fashion and home with the thought that amalgamation of tradition with the changing times can lead to amazing and distinctive creations.