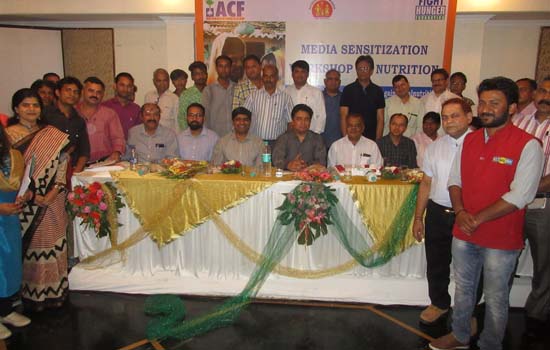 Udaipur: More than ten thousand malnourished children are living normal lives, with community-based malnutrition management programs, in celebration with the technical assistance of the Medical Dept. and ACF and UNICEF, with ten high priority and three tribal districts of the state. Inspired by the success of this multi-faceted program, preparations are being made to conduct the second phase.
Health Secretary and Mission Director NHM Mr. Naveen Jain gave this information while addressing the media workshop organized on the topic of nutrition by International Organization ACF in Udaipur on Saturday. He said that adequate nutrition is essential for healthy living. Neonates need proper nutrition.
He explained that by various research analyzes it is clear that the probability of death in very severely malnourished children is nine times higher than normal children. Community-based management programs, Approximately 2 lakh 34 thousand screens have been screened in 1731 villages with the technical methods of malnutrition and selected 9 thousand 529 children identified with the conditional Hen with a particular monitor malnutrition was achieved in free.
Mr. Jain informed that 12 thousand 654 medium critical malnourished children were connected with Anganwadi center to provide nutritional supplements and 406 medical complications were also sent to the treatment center for malnutrition treatment centers.
Simem 25 thousand in the second phase proposed to free children from malnutrition
The mission director said that it is very happy to see these children, unlike malnutrition, playing like normal children today. He said that getting the appreciation of the community-based malnutrition management program (CMM's inspirational results, health experts at the national level, etc.) is important for the state. He said that in the second 62 blocks of these districts, 25 thousand children were malnourished Work plan for giving free life is being prepared.
Mr. Jain informed that in the screening health camps organized for children studying in all the government schools, madrassas and anganwadi centers, under the National Child Health Program conducted across the state, by identifying the children suffering from malnutrition by physicians, their free treatment and consultation services.
Nutrition expert Mita Mathur proposed the need for proper nutrition for health. They plan to address the problem of malnutrition in children stressed.
Describing the role of media in proper management of malnutrition, Govind Pariik, Deputy Director, Public Relations, said that this problem can be solved with the cooperation of the media.
In the end Sanjay of the ACF thanked the memorandum. Representatives and doctors of mediocre and various voluntary organizations were present in the workshop.