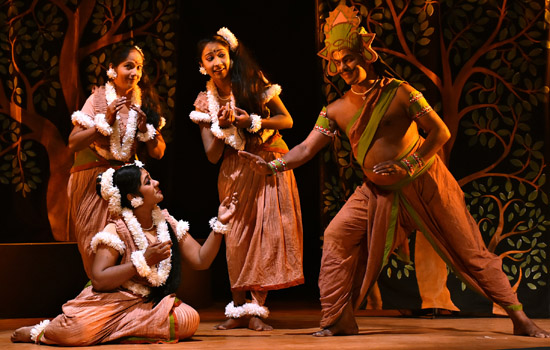 Vilas Janve
Udaipur has really become a Smart City to attract National and International Festivals. 'National School of Drama', New Delhi and 'West Zone Cultural Centre', Udaipur organized a Classical Drama Festival at the Darpan Auditorium, Shilpgram from 20 March to 23 March. Four selected Classical Dramas directed by the Stalwart Designers and Drama Directors of India were staged show casing what is the best. In ancient times Classical Sanskrit Dramas were very popular in elite and educated class of society. Much later they were translated in other regional languages and in Hindi to reach more theatre loving people.
The inaugural performance of this festival was "Urubhangam" presented by 'Chorus Repertory, Manipur' directed by Ratan Thayam (Padmashri Awardee), the Chairman, NSD in Manipuri. The play narrated the episode of Mahabharat where guided by Krishna, Bheem kills Duryodhan by breaking his thigh. This play showed agony of Dhritrashtra and Gandhari, parents of Kaurav Prince Duryodhan. The anger of Balram, sorrow of the princesses and triumph of soldiers was showcased in great detail. Observing all rituals of Classical Sanskrit Drama Sutradhar and chorus explained the story with intense facial and body expressions. With elaborate light effects, powerful music, use of folk dances and martial art 'Thangta', Ratan Da made this play very spectacular. It was a rare treat to watch. He also used traditional and contemporary musical instruments to create perfect effects. Trained and experienced actors kept the audience mesmerized. Since the play was in Manipuri audience would have been more comfortable if the gist of the play would have been announced in Hindi. Somo as Sutradhar, Robindro as Dhrutrashtra,Chigah khei Ganabi as Gandhari and Lokendra as Balram impressed with their natural acting. Other actors Jila Sana, Bigan, Tarpan, Taruni, Ching, Sandhya, Ronita, Rojita,Rocky, Somendra, Anil, Tarun, Krishna Mohan Sharma and Dolin also exhibited their talent.
Second evening's play "Shakuntalam" of Mahakavi Kalidas was staged in Sanskrit.That was the first time when such high profile drama was staged in Sanskrit that too in the August presence of Mrs Pannikar, wife of late Stalwart Designer and Director Shri K.N. Pannikar. This play was produced and staged by Sopanam,Thiruvananth puram.
The play was based on the well-known story of King Dushyant of Hastinapur who falls in love of the most beautiful daughter of Kanva Rishi and presents her his royal ring as a memory while performing Gandharv Vivah (marriage). Shakuntala is cursed by Sage Durvasa for not attending to him that her beloved will not remember her at all, but later gives relaxation that as soon as the King Dushyant sees the Ring he would recall everything. Her father gives instructions before she leaves for Hastinapur but on way she loses her Ring in the river. King Dushyant does not recognize her and denies accepting Shakuntla as his wife. Later a fisherman finds the ring from a fish and the Ring reaches Dushtant who recollects every instance and accepts Shakuntala as his wife. The suggestive set, intense lighting and most appropriate live music imbibing traditional and modern musical instruments and melodious songs helped the production to reach the hearts of the audience. Highly professional acting made the play acceptable to each audience despite its unheard language. Girish V. as Dushyant and MohiniVinayan as Shakuuntala were very attractive throughout the play with their movements, dialogues and delightful expressions. The use of deer was and trees made the play more poetic. Komalan Nayar as Sage Durvasa and S.L. Sajikumar as Viduhak were highly appreciated for their mime. Other artistes Sheron VS,Shrikant Shankar S.U.,Vinitha K. Thamban, Keertana Ravi, Krishna M.S,Shiv KumarK.,Manikantan P.Suchaka,Raghunath C. and Praveen did their respective roles with full involvement .Light design, costume and stage was professionally handled by Murali Chandran.'BHAGAVADJJUKEEYAM', third day's performance was originally creation in Sanskrit by Bodhayan. It was directed by Surya Mohan Kulshreshtha and presented by NIPA Rangmandali, Lucknow in Hindi. This humorous play was a based on an interesting story involving different characters. A strict Bhagwat (Guru) and his greedy and hungry disciple go to a garden where Guru asks Shishya Shandilya (disciple) to do meditation. Suddenly beautiful court dancer Vasant Sena (Ajjuke) comes with her friend and while waiting for Shreshthi ( rich man and lover of court dancer).perform romantic dance. Shandilya gets attracted towards Ajjuke. At the same time Yamdoot, a convoy of Yamaraj (God of the Death) reaches garden to take life of Ajjuke. At accurate time he becomes snake and bites her to take her life. Shocked Shandilya cries profusely so her friend who calls mother of Ajjuke .Shandilya compels his Guru to make her alive through yoga knowledge. Guru gives life to Ajjuke by transferring his soul into her making his own body dead. This creates havoc as Shandilya finds his Guru Dead. Shreshthi and Ajjuke's mother find drastic change in Ajjukes's behavior who becomes Guru. Vaidya is called for treatment but with no results. Suddenly Yamdoot appears feeling sorry for his mistake. Inadvertently he took soul of Ajjuke instead of some another lady. Seeing Guruji's dead body he hurriedly puts soul of Ajjuke to Guruji's body creating further confusion. Now Guru becomes Ajjuke (Bhagvadajjukeeyam). Every character reacts to this funny situation in his/her own way making audience laugh liberally. Gazing his further mistake Yamdoot immediately puts correct soul into their bodies bringing happy end to the drama. This comedy play provided healthy entertainment to audience. Director Surya Narayan Kulshreshtha designed this play very carefully imbibing stylized classical acting with most appropriate body movements clubbed with musical notes. Right from the initial rituals and prayer till the concluding Ashirvachanam, play maintained optimum pace engrossing and entertaining entire audience. Vikesh Vajpaye, Neetish Bhardwaj, Sonam Asthana, Prakriti Chandra, Sandhya Rastogi,Sanjeev Verma, Devasheesh Mishra, Surj Pratap Singh and Amrut Sinha enacted their roles so professionally that every moment of play gave tremendous enjoyment .
The concluding Play was 'Mohe Piya'(Hindi) produced by Rang Peeth, Mumbai directed by Waman Kendre who also heads National School of Drama. Originally this classical play (Madhyam Vyayog) is creation of great poet and playwright Bhas in Sanskrit. This was too blended with humor and entertained a lot. This play has more than 300 shows to its credit with a world record to stage the same play by the same cast, same venue and same day in Marathi, Hindi and English. Professor Waman Kendre, Director, National School of Drama graced the inaugural ceremony on 20 March. While inaugurating the Festival he hinted that the National Drama Festival "BHARANGAM" which has recently been extended to four states may be brought to Udaipur. He also agreed to explore the possibilities to make Udaipur one of the venues of International Theatre Olympiad to be held in 2018.
West Zone Cultural Centre, Udaipur is striving to create a positive theatre atmosphere in the Smart City. Congrats to WZCC team.We hope and look forward to receive more and more dramas in town to popularize Theatre in general.