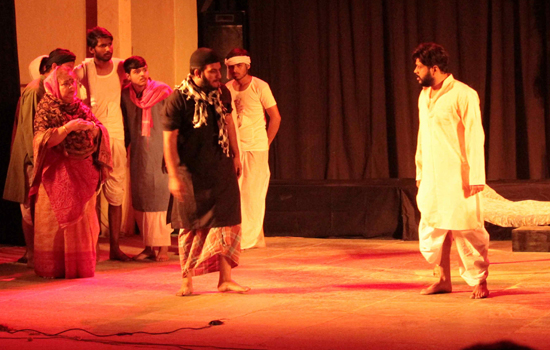 Udaipur:(Vilas Janve) Recently 15 th All World Dawoodi Bohra Conference 2017, was organized at Bhartiya Lok Kala Mandal ,Udaipur. This was an initiative by the Central Board of Dawoodi Bohra Community, Dawoodi Bohra Jamaat and Bohra Youth Association, Udaipur. Many prominent ideologists and speakers shared their views on Humanity and Communal Harmony.
A full length Hind play "Lashkar Chowk" was staged by "Natyansh Society of Dramatic and Performing Arts" on this occasion to spread the fragrance of brotherhood.
This play was based on the story of Pandey Bechan Sharma "Ugra", Scripted by Dr.Ms.Kusum Kumar and further modified by young theatre artistes Amit Shrimali and Abdul Mubin Khan. The play portrayed scenario of pre Independence of India and showed how fanatic political leaders spoil the peaceful atmosphere of society. Pandit Ramdas and his wife Panditain Leela are kind hearted and give shelter to a young needy woman.
They did not know that she (Kamar -un-nisa) was a sufferer of domestic violence of her Muslim husband Latthamar.
She hides her identity and declares herself a widow thakurain. Slowly she
adjusts with Pandit family but one day her husband Latthmar captures her in Dhimapur village and drags her to Pandit's home scolding and blaming Pandit family and takes away
Kama-un-nisa. The narrow minded Hindu leaders expel innocent Pandit family from Hindu religion. Poor Pandit family is recued by Muslim leader (Maulvi) by converting them to Islam. Pandit's son Shyam becomes Madeen and marries Muslim girl Para. Time passes but Pandit family fails to coop with Muslim religion fully and decides to re adopt Hindu religion.
This brings turmoil in Politicians of Musilm and Hindu community. Khuda Ram a Sufi and neutral old man of village Dhimapur smells disaster and immediately involves
ladies of both the communities to avoid unwanted blood struggle. During the process of resolving peace Kamar-un-nisa wife of Shyam(Madeen) is killed. But finally ladies succeed in stopping further violence. This play ended with a positive note to create communal harmony. Nikhilesh Tayal as Pandit,Manisha Sharma as Panditain tried to tackle given roles properly. Milind Purohit as Shyam and Madeen would have been more impressive if he had worked properly on speech.
Gargee Nandwana as Kamar un-nisa and Ashfaq Noor Khan as Latthmar showed their acting talent. Abdul Mubin Khan as Maulvi and Mukhiya did
commendable job in the diverse roles. Amit Shrimali as Khuda Ram show cased powerful acting and received applauds.
Palak Kayth as Bhikharan and Para displayed tremendous talent. She is a promising artiste. Mohammed Rizwan and Parak Jain as Rahgeer were natural.
Young child artiste Raina Talreja was also good in her brief role. Poonam Bhoo, Nidhi Purohit and Nupur Basu as ladies of village justified their roles so as Shyam Bihari Yadaw as Sharmaji.
Manish Sharma, Bhupendra Rawat, Chetan Sharma, Arya Chaudhry,Sandeep Pillai and Siddharth Sharma as villagers were natural in respective roles.
Music was appropriate and was handled carefully by Hemant Ameta, Abdul Mubin Khan.
Senior dramatist from Jaipur Shahzor Ali designed lights for the play to enhance visual effects. Amit Shrimali who directed this play had to struggle a lot in restructuring the play with almost a new cast. He was successful up to some extent. He is a talented young
artist but directing and acting simultaneously affect the final results.
He was assisted by Abdul Mubin Khan in direction. Prof. Arun Jain had come all from Banaras to handle the production. Rekha Sisodia introduced artistes after curtain call.
The play left good impact and enhanced the value of the Conference. A new lot of audience witnessed drama in Udaipur and generated love for it. This is a good sign of development of Theatre.