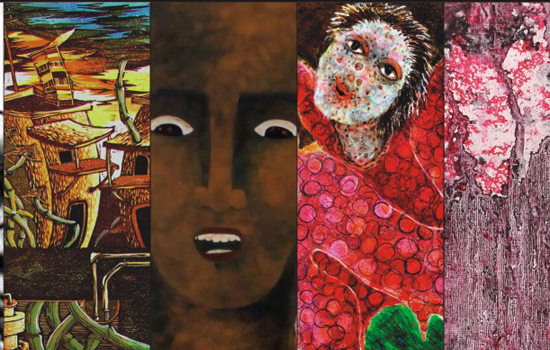 Udaipur : Arghya Art Society, Udaipur in association with ART Junction (International Artists Residency, Udaipur) organized Exhibition of 40 Choicest Arts works of 9 women artists of Udaipur at 'Kalavithi'art gallery, Bagor ki Haveli of WZCC from 7th to 11th March,2017.
Renowned, established and upcoming women artists exhibited paintings of different mediums depicting different moods. The works exhibited enriched experience of viewers and received healthy comments. Kiran Murdia,Dr. Meena Baya and Iti Kachhava used Acrylic on Canvas, Deepika Mali used Charcoal on Paper, Sharmila Rathore used Oil on Canvas, Sheetal Guhil used dry point technique on Acrylic sheet while Sarita Mali used Oil on Paper. Jyotika Rathore displayed her work in Etching and Dimple Chandat displayed Wood cut Print. The exhibition was inaugurated by Preeta Bhargav, Superintendent of Central
Jail, Udaipur. Two oil paintings of Preeta Bhargav were also displayed in the exhibition. Preeta who is also a poetess told that women artists of Udaipur have created space for their artistic talent in India and abroad and brought proud to this beautiful city. Guest of Honor were Sheros Girls and Aniz Fatima Paliwala of Arwana Mall. This exhibition coincided with International Women's Day and Holi (Festival of colors).
Deepika Mali woman behind the show told that this exhibition was viewed and appreciated by renowned artistes of Udaipur, art lovers and public at large. with previous one (Women's Painting Exhibition).
यह खबर निम्न श्रेणियों पर भी है:
Udaipur News