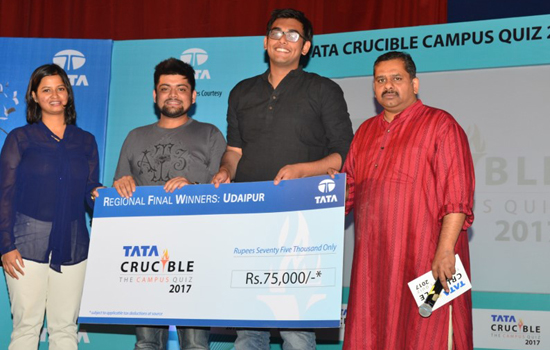 Udaipur: Tata Crucible Campus Quiz is back to challenge the masterminds across the country. In its 13th edition this year, the quiz will cover 38 cities across India. At the Udaipur, regional round of Tata Crucible Campus Quiz 2017, Sanjay Krishna and Rajendra Dangwal from National Law University defeated 195 other teams, emerging as the winning team and they will now compete with six other teams in the Zonal Finals to be held in Mumbai. The runners up position was bagged by Anshul Sharma and Srijan Sinha from AIIMS.The winners of the Udaipur regional round were awarded a prize money of Rs. 75,000* and the runners-up were awarded Rs. 35,000*. The winners of the national finals will receive a grand prize of Rs. 5,00,000 /-* along with the coveted Tata Crucible Trophy. Besides the winners and the runners up, the four stage-finalist teams included Abhinandan Mishra and Prateek. S from IIM, Rahul Jora and Raghav Udaiwal from S S College of Engg, Nitish Sharma and Arpit. K and Apurv. S and Debjyoti Dey from IIM.
The Udaipur regional round of Tata Crucible Campus Quiz 2017 enjoyed an enthusiastic response with 195 teams participating across the colleges. The names of the rounds and pattern of the quiz was themed around contemporary games. Each segment of the quiz was divided in three rounds titled 'League of Legends', 'Need for Strategy', and 'Game of Crowns'. The quiz was hosted by ace quizmaster Giri Balasubramaniam, better known as 'Pickbrain' who kept the contestants and audience constantly engaged.
Prof. J. P. Sharma, Vice Chancellor, Mohanlal Sukhadia University graced the occasion and felicitated the winners.
यह खबर निम्न श्रेणियों पर भी है:
Headlines today News
,
Udaipur News