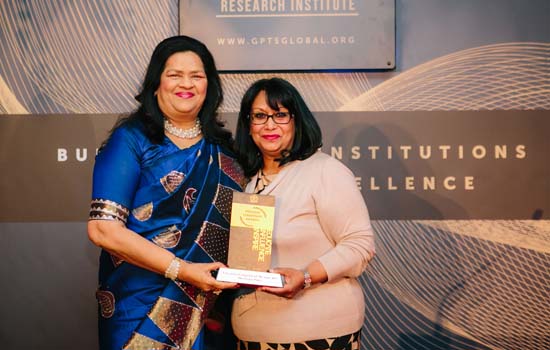 Udaipur: The prestigious "Education Evangelist of the Year" Award was conferred upon Madam Grace Pinto, Managing Director, Ryan International Group of Institutions on February 22, 2017 for her valuable contribution to education in India.
The Education Evangelist of India recognizes individuals who have gone way beyond the call of duty and made significant contribution at the sectoral level and with their passion, have worked tirelessly for the cause of education in India. The Award was presented to her by Baroness Verma, Conservative member of the House of Lords at the Great Place to Study(GPTS) Thought Leadership Award Function held in London, UK.
The award was conferred on her after a stringent review by an eminent jury. It was given to her in recognition of her contribution to the education ecosystem for supporting it and taking it to global standards. Speaking on the occasion, Madam Pinto said, "I'm pleased and deeply honored to receive this award and thank our Lord Jesus Christ for this prestigious recognition.
At Ryan, we have always aspired to go beyond mere academics to enable our students become global leaders and contribute positively to the society. I accept this award on behalf of the entire Ryan Family, our staff, students, parent community
यह खबर निम्न श्रेणियों पर भी है:
Udaipur News