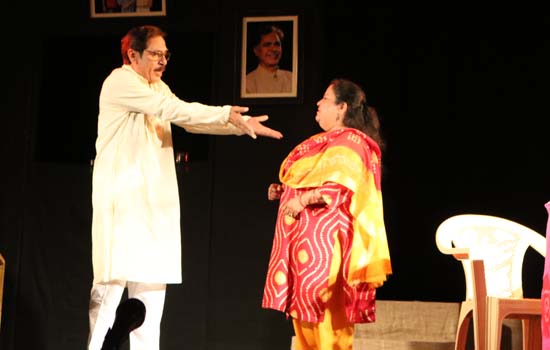 Udaipur:(Vilas Janve) February proved a month of Cultural Festivity as Theatre, Music, Dance, Poetry and Story lovers of the city beautiful experienced boom of cultural activities. Bhartiya Lok Kala Mandal is association with The Performers offered six plays of different themes.
"Welcome Zindgi" presented by Aakar Kala Sangam, New Delhi impressed viewers thoroughly. Originally written in Gujarati by Saumya Joshi and translated by Rahil Bhardwaj this play was designed and directed by Suresh Bhardwaj,Porfessor at National School of Drama, New Delhi. The strong script reveals strange and strong relationship of father and son of a common middile class family dwelling in Mumbai.
Arun Ganatra is nearing retirement and has deep emotional attachment with his son Vivek Ganatra who is young and has his own ambitions about prosperous future. Though father and son have deep affection for each other but they lack in communicating the same and create devastating distances aomong them. Mother Bhanu Ganatra is very rational and always tries to bridge the gap. The situations, dialogues and expressions were so natural that the spectators especially who were above 40 years were deeply involved to the extent that they were in tears many times during the play. The last scene when father reads this lecture for Retirement function was so effective that entire auditorium was sobbing. Ramesh Manchanda as father stole the show. From every angle he live his role to great expectations. Anju Jetly as mother earned great applaud for her natural and balanced acting. Vivek Ram Kannojiya as son displayed tremendous talent in his short but effective role. Credit goes to the designer and director Prof.
Suresh Bhardwaj who very efficiently handled this psychodrama. He could create the atmosphere where every sensitive spectator that as if he is part of what is going on the stage. Lights by Kiran Kumar Sharma, set by Ram Pratap, sound by Suman Vaidya and stage props as well as costume by Veena Sharma helped to sustain the required effects.
The concluding play "Sakharam Binder" was a celebrated play by the stalwart playwright Vijay Tendulkar. This bold play was written many years back in Marathi and was so popular in theatre groups throughout the country that almost every courageous director and group staged in different languages and style.
The play exhibits complexity of human relationship and domestic violence. The play reflects the ugly mentality of man towards woman. He believes only in lust for woman keeping the sentiments aside. Woman is always compelled to crush her emotions and live miserable conditions to satisfy man.
Jagjeet Sandhu as Sakharam portrayed aggressiveness in his role where required. Pradeep Singh as Dawud did his role well. Neha Preet as Lakshmi lived her role very efficiently .Malvika Bhaskar as Champa put life her character.
Gurinder Singh on lights showed his talent in emphasizing important scenes. Raman Kumar and Surinder Singh helped in set and stage props. The play was designed and directed by Umesh Kant who is a renowned theatre personality of Punjab and Chandigarh. He did fairly his work well. He edited play and tried to balance the contents of this complex play with the contemporary scenario. To some extent he was successful. The content of this play were certainly for the Adults. Children audience must have been confused so as their parents who itnessed this play together.
It would have better if the organizers made announced it the previous day about the contents and declared as Adult play.This festival has contributed in the understanding of the audience. Some plays like "Welcome
Zindgi" deserve to be called again in Udaipur.
यह खबर निम्न श्रेणियों पर भी है:
Udaipur News