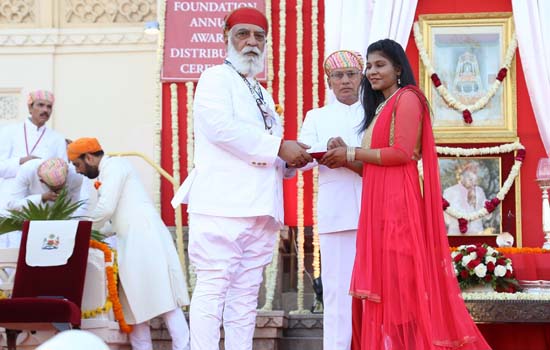 Udaipur: This year, Maharana Mewar Foundation 35th Annual Award Distribution Ceremony - 2017 held on Sunday the 5th March, 2017 at The Manek Chowk, The City Palace, Udaipur.
The distribution ceremony started with the presentation of certificates to the students from schools and universities in Udaipur and across the State of Rajasthan.
This was followed by the main Ceremony when the international and national awardees gathered on the dais to receive their awards from Shriji Arvind Singh Mewar of Udaipur, Chairman and Managing Trustee of Maharana of Mewar Charitable Foundation, Udaipur.
The chief guest of the ceremony was Rashtrakavi Bal Kavi Bairagi ji. Col. James Tod is to honour a foreign national who has made a lasting contribution through his work of permanent value and understanding of the spirit and values of Mewar. was given to Professor Sir Angus Deaton, USA, who is Senior Scholar and the Dwight D. Eisenhower Professor of Economics and International Affairs Emeritus at Princeton University's Woodrow Wilson School where he has taught for thirty years, Haldighati Award, was given to an individual for work of permanent value that initiates an awakening in society through the medium of journalism, Mr. Praveen Swami, is a National Editor for Strategic and International Affairs at The Indian Express.
Hakim Khan Sur Award was awarded to Mr. Shailesh Lodha widely recognized as one of the most distinctive and socially accepted poet-actors.
Cont...page 3
यह खबर निम्न श्रेणियों पर भी है:
Headlines today News
,
Udaipur News