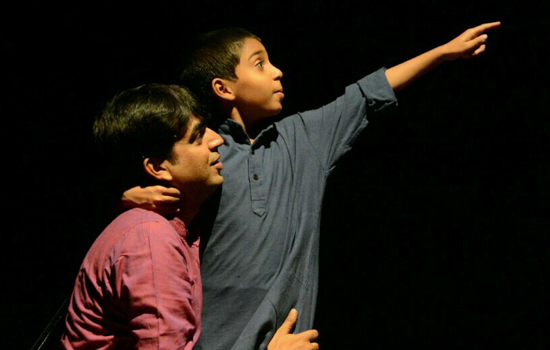 Udaipur: (Vilas Janve) 'Bade Bhaisaab' was staged at Bhariya Lok Kala Mandal, Udaipur on Sunday evening as part of 6 Day Padmashri Devilal Samar Memorial Drama Festival co hosted by Bhartiya Lok Kala Mandal and The Performers. Very old and very sensitive story of Musnhi Prem Chand was adapted in drama and directed by Veena Sharma. She carefully designed the play by adding few current issues but keeping the soul of storyintact. It was a story of two brothers who live in Hostel. The elder brother Kanta Prasad spends lot of time on his study table to remember his lessons avoiding any kind of excursion or games while his younger brother Samta Prasad always enjoyed such things with neighborhood friends. 'Bade Bhaisaab' always scolds his younger brother for wasting time in playing and instructs him to devote time to study.
Despite his busy schedule of studies Bade Bhaisaab fails in Final Exams every year where as Samta Prasad gets through happily reducing the academic gap.
Bade Bhaisaab gets disappointed for his time and again failure but boasts his responsibility as elder brother. He looked after his younger brother with deep concern. The sheer love of brothers reflects through this play giving positive notes. Acting wise child actor Visharad Sharma as Samta Prasad stole the show with his superb acting. This child actor with inherited Talent promises good future in theatre.Susheel Sharma,father of Visharad showed his natural talent in the role of Kanta Prasad (Bade Bhaisaab). Visharad's mother Veena Sharma who directed the play also handled role of Lotni neighborhood girl. Sharma family showcased enormous talent by living their characters proficiently.
This entertaining play had strong lyrics and melodious music suiting the story. Anurag Dubey deserves appreciation for his contribution. Shusheel Sharma himself is also a good musician besides a professional actor.
The other cast included Abishek, Rajat and Sajid who could establish their roles in the minds of audience. Stage props were handled by Deepak and Light Design by Kavirj Laique. This refreshing play was also staged on February 5 during monthly Rangshala event of WZCC.
Udaipur: Bhartiya Lok Kala Mandal does not need any reason to celebrate the culture of India but this time it was the 66th founder's day. In association with The Performers, the Bhartiya Lok KAla Mandal celebrated its foundation day across three days.
And each of the days was highly appreciated and enjoyed by Indians as well as Foreign tourists.Artists from various states of the country flocked here and presented their art in most natural way. The dance performances like Gawari, Jindara, Ghumra, Chakka Bhawai, Chari, Faag and Bhangra left audiences mesmerised.
यह खबर निम्न श्रेणियों पर भी है:
Headlines today News
,
Udaipur News