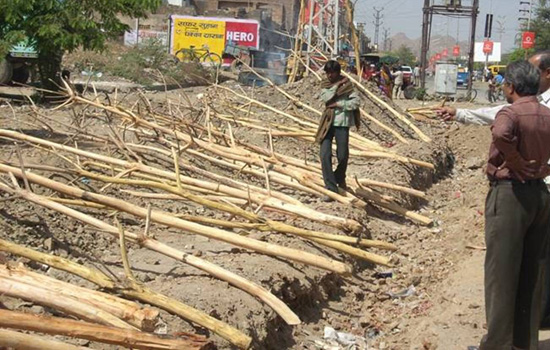 Semal, Shimul, Red Silk Cotton Tree, Indian Red Kapok Tree etc., all these names belong to one of the most magnificent multi-purpose tree species of India, scientifically known as Bombax ceiba. This large tree could be recognized by sharp, conical spines present all over the stem and branches making it a relatively fire-resistant tree. It becomes major centre of attraction when it blooms during January-March and paints the complete landscape in red hue by bearing beautiful scarlet red flowers on a leafless tree. Later, fruits appear during April-May and spread immensely soft silk-cotton along with seeds in the near vicinity. Whether leafless or with leaves; with flowers or fruits; it remains a hotspot among various insects, birds and animal species in all the seasons and sometimes also referred as One Tree Wild Life Sanctuary in itself.
Semal is considered as sacred tree and also referred as 'Dev vriksha' and 'Nakshtra Vriksha' (Constellation Tree) of people born in 18th constellation- 'Jyestha'. It was one of the five sacred trees of 'Panchwati'- a place where sages used to do psycho-spiritual meditation in ancient times.It is also an important part of Indian (Ayurveda), Chinese and Taiwanese traditional systems of medicine. Every part of the tree i.e. root, stem-bark, spines, leaves, flowers, fruits, seeds and gum possesses medicinal potential and indigenous communities use it for treatment of various human and animal ailments. The plant is very popular for its use in seminal weakness in man and genital infections and inflammation in females. Root of Semal known as 'Semal-musli'is used for treatment of diabetes, heart disease, leucorrhoea, impotence, debility, diarrhea and dysentery in folk medicine. Powder of its thorns is mixed with milk and used to remove acne of face. Stem-Bark is used to treat gastro-intestinal diseases, boils, kidney stone, headache, heart disease, snake bite etc. in tribal medicine. Its protein rich leaves are used for treatment of diabetes, leucorrhoea, arthritis, anemia, body pains and dysentery. Young flower buds are cooked as vegetable and flowers are used for treatment of anemia, bleeding piles, leucorrhoea, gonorrhoea, menorrhagia, colitis, skin disease, internal bleeding, ulcers and boils. Young fruits are utilized for the treatment of urinary and kidney stones, gonorrhoea, leucorrhoea, menorrhagia, uterus prolapse and snake bite while gum known as 'Mochrasa' is useful against asthma, bleeding piles, debility, diarrhea and dysentry. Notably, many of these folk claims have been validated scientifically and its various medicinal properties such as anti-inflammatory, antihyperglycemic, antihyperlipidaemic, antimicrobial, analgesic, antioxidant, anabolic, hypotensive and fibrinolysis enhancement have been demonstrated in animal and human studies.
Commercially, timber of Semal tree is utilized for match-stick production and also for planking ceilings, canoes, catamarans, shingles, toys, pencils, pen-holders, veneers, scabbards, coffins, brush-handles, picture frames, wooden sculptures, ladles, paper pulp and artifact production etc. Its vermin-proof Silk-cotton is used to fill life-saving appliances, sleeping bags, mattresses, cushions, pillows, upholstery, wadded cloth quilts etc. and seed oil is used as an edible, illuminant.and also for soap making.
It is popular among naturalists as 'Little Bird's Cafetaria' and 'Umbrella Tree' as many birds and animals visit this tree for its beautiful nectar rich flowers and huge dense foliage. The height and dense canopy of its leaves makes it among the most favorite roosting and nesting sites of many large birds especially Vultures, Eagles and Storks. Many of the birds visiting Semal trees comes in Red Data list of IUCN (3.1) for example Grey-headed Fish Eagle, Red-breasted Parakeet, Slender-bill vulture and White-rumped vulture, Greater and Lesser Adjutant Storks etc. This clearly indicates importance of this tree as a habitat on which birds are dependent either for feeding, roosting or nesting purposes. Over-exploitation of this tree for commercial purposes has led to decline in population of an endangered bird 'Greater Adjutant Stork' in Assam and reduction of Honey Bee colonies in Maradvally forest area in Western Ghats. These instances prove that loss of even one member of food chain may have a profound effect on the entire ecosystem. Looking to these, it becomes very important to protect and conserve the populations of Semal trees in order to protect fauna dependent on it.
Holi- The traditional fatal axe in Udaipur
Semal tree is a common species of tropical dry deciduous forests of India and distributed in entire country. Traditional burning of Semal trees and its branches on Holi festival by considering this as a symbol of mythological character 'Prahlad' has caused a negative impact on population of this important tree species in Udaipur, Rajasthan. The most tragic thing is that the tree is cut during February- March when it is in full bloom and thus destroys the chances of its future survival through fruits and seeds. Moreover, fissiparous tendencies in society has caused increasing number of Holi burning events instead of one common Group-Holi and therefore, putting extra burden on demand of Semal trees. Not only this, a competitive trend of burning Longest Holi of the city is also causing loss of fully grown 50-60 ft. tall Semal trees.
To protect and conserve this tree species, Society for Microvita Research and Integrated Medicine (SMRIM), Udaipur has initiated 'Semal Conservation Mission' in 2007 and intensive awareness program was started through various publications in national and international journals, magazines, newspapers, bulletins about the grave situation of Semal tree population in Udaipur. Along with that, awareness is also being created through pamphlet distribution, short message services in mobile, emails, social media etc. Besides that, direct interactions with various rural and urban communities in the form of group meetings, table talks, seminars and lecture deliveries are also being made to aware them about the importance of this tree species and its plantation in large scale.
SMRIM developed saplings of Semal from seeds and planted about 500 Semal plants in and around Udaipur district. It is also motivating people to plant five Semal saplings every year for each tree cut on Holi festival or to symbolically use only a small twig of Semal tree so that the tradition could be continued without causing harm to the plant as well as environment. Not only this, Society has also suggested a novel concept of burning an 'iron-pole' covered with dried grass and hay material instead of Semal tree and implementing it since 2011 in Udaipur. This eco-friendly concept of burning iron-pole instead of any kind of wood has been adopted by many societies and colonies in Udaipur city and by this approach, main purpose of survival of 'Prahlad' even after burning in fire is also served.
Nowadays, availability and accessibility of food material for birds and wild animals has become a major problem in many parts of the country. In this regard, this multipurpose tree species providing food, fodder, fuel, fiber, timber, medicine and also having a long life span could be used as a potential bio-resource for various faunal species. By planting this tree species in dotted fashion, availability of food can be improved in forests, wastelands, urban, peri-urban and rural areas. Semal trees require relatively less water to survive and also possess drought tolerance potential. Dry flowers and leaves of the plant are employed to make a good quality of vermicompost manure and protein rich leaves make it one of the most preferred fodder species. It possesses soil binding property and also used for reclamation of wastelands and mine spoils. It can also be used for city beautification by doing roadside plantations where it may help to support a good number of city dweller birds as evident in New Delhi.
Semal tree touches every sphere of human life whether social customs, folk songs, medicine, commerce, environment balance or spiritual advancement etc. Depletion of such important bio-resource can cause a deleterious impact on the entire ecosystem and hence, there is an urgent need to protect and conserve this tree species so that future generations could also be benefited from this majestic 'King of the Forest' tree species.